IMI plc (LON:IMI)'s stock had its "overweight" rating restated by analysts at Barclays PLC in a report issued on Tuesday.
A number of other equities analysts have also commented on the company. Credit Suisse Group AG raised IMI plc to an "outperform" rating and raised their price target for the stock from GBX 1,020 ($12.60) to GBX 1,220 ($15.07) in a report on Thursday, January 26th. Goldman Sachs Group Inc initiated coverage on IMI plc in a report on Friday, January 6th. They issued a "neutral" rating and a GBX 1,000 ($12.35) price target for the company. HSBC Holdings plc reaffirmed a "hold" rating and issued a GBX 1,000 ($12.35) price target on shares of IMI plc in a report on Monday, December 5th. BNP Paribas raised their price target on IMI plc from GBX 1,150 ($14.20) to GBX 1,400 ($17.29) and gave the stock an "outperform" rating in a report on Friday, February 10th. Finally, Liberum Capital initiated coverage on IMI plc in a report on Wednesday, February 22nd. They issued a "buy" rating and a GBX 1,460 ($18.03) price target for the company. One equities research analyst has rated the stock with a sell rating, ten have given a hold rating and four have issued a buy rating to the stock. The stock currently has a consensus rating of "Hold" and an average target price of GBX 1,132.33 ($13.98).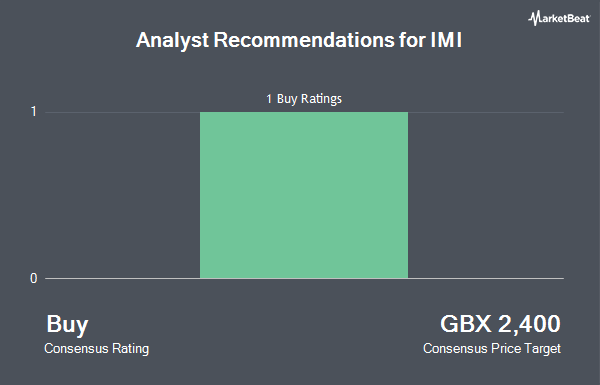 IMI plc (LON:IMI) opened at 1286.44 on Tuesday. The firm has a 50-day moving average price of GBX 1,234.17 and a 200-day moving average price of GBX 1,086.21. IMI plc has a one year low of GBX 891.50 and a one year high of GBX 1,298.00. The firm's market cap is GBX 3.48 billion.
The firm also recently disclosed a dividend, which will be paid on Friday, May 19th. Investors of record on Thursday, April 6th will be paid a dividend of GBX 24.70 ($0.31) per share. This is a positive change from IMI plc's previous dividend of $14.00. The ex-dividend date of this dividend is Thursday, April 6th. This represents a yield of 2.04%.
Your IP Address:
IMI plc Company Profile
IMI plc is a United Kingdom-based specialist engineering company. The Company is engaged in designing, manufacturing and servicing engineered products that control the precise movement of fluids. The Company operates though the following segments: IMI critical engineering, which provides flow control solutions; IMI precision engineering, which specializes in developing motion and fluid control technologies, and IMI hydronic engineering, which is engaged in designing and manufacturing technologies that delivers heating and cooling systems to the residential and commercial building sectors.
This story was originally published by WKRB News (http://www.wkrb13.com) and is the sole property of WKRB News. If you are reading this article on another website, that means this article was illegally copied and re-published to this website in violation of U.S. and International copyright law. You can view the original version of this story at http://www.wkrb13.com/markets/2024469/barclays-plc-reiterates-overweight-rating-for-imi-plc-imi.html
Receive News & Ratings for IMI plc Daily - Enter your email address below to receive a concise daily summary of the latest news and analysts' ratings for IMI plc and related companies with MarketBeat.com's FREE daily email newsletter.