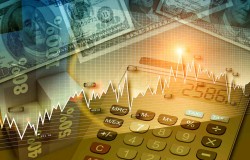 Taylor Wimpey (OTCMKTS:TWODY) announced a Semi-Annual dividend on Monday, March 5th, Zacks reports. Shareholders of record on Friday, April 6th will be paid a dividend of 0.287 per share on Friday, June 1st. The ex-dividend date is Thursday, April 5th.
Shares of OTCMKTS:TWODY opened at $27.33 on Friday. The company has a current ratio of 3.27, a quick ratio of 0.47 and a debt-to-equity ratio of 0.03. Taylor Wimpey has a 52-week low of $25.38 and a 52-week high of $28.15.
TWODY has been the subject of several recent research reports. ValuEngine downgraded shares of Taylor Wimpey from a "strong-buy" rating to a "buy" rating in a research report on Wednesday, January 3rd. Zacks Investment Research raised shares of Taylor Wimpey from a "hold" rating to a "buy" rating and set a $31.00 price objective for the company in a research report on Saturday, January 13th.
WARNING: This article was posted by WKRB News and is the sole property of of WKRB News. If you are accessing this article on another site, it was illegally copied and reposted in violation of US and international copyright legislation. The correct version of this article can be read at https://www.wkrb13.com/2018/03/31/taylor-wimpey-twody-announces-semi-annual-dividend-of-0-29.html.
About Taylor Wimpey
Taylor Wimpey plc operates as a homebuilding company in the United Kingdom and Spain. It builds various homes, such as one- and two-bedroom apartments to six-bedroom detached houses. The company was founded in 1880 and is headquartered in High Wycombe, the United Kingdom.
Receive News & Ratings for Taylor Wimpey Daily - Enter your email address below to receive a concise daily summary of the latest news and analysts' ratings for Taylor Wimpey and related companies with MarketBeat.com's FREE daily email newsletter.