Bristow Group (NYSE:BRS) released its earnings results on Thursday. The oil and gas company reported ($0.82) earnings per share (EPS) for the quarter, missing analysts' consensus estimates of ($0.64) by ($0.18), Bloomberg Earnings reports. The company had revenue of $367.90 million during the quarter, compared to analyst estimates of $348.80 million. Bristow Group had a negative net margin of 13.53% and a negative return on equity of 6.20%. Bristow Group's revenue was up 4.5% compared to the same quarter last year. During the same period in the prior year, the firm posted ($0.83) EPS.
Shares of NYSE:BRS traded up $0.24 during midday trading on Thursday, reaching $13.50. The company had a trading volume of 362,100 shares, compared to its average volume of 633,857. The company has a debt-to-equity ratio of 1.21, a quick ratio of 1.94 and a current ratio of 2.30. The company has a market cap of $500.00 million, a P/E ratio of -6.33 and a beta of 2.96. Bristow Group has a 1-year low of $6.86 and a 1-year high of $18.91.
A number of analysts recently issued reports on the company. Zacks Investment Research downgraded Bristow Group from a "buy" rating to a "hold" rating in a research report on Thursday, April 19th. ValuEngine raised Bristow Group from a "hold" rating to a "buy" rating in a research report on Friday, June 1st. Five equities research analysts have rated the stock with a hold rating and one has given a buy rating to the stock. The stock currently has an average rating of "Hold" and a consensus price target of $13.50.
Bristow Group Company Profile
Bristow Group Inc provides industrial aviation services to the offshore energy companies in Europe Caspian, Africa, the Americas, and the Asia Pacific. The company offers helicopter charter services to transport personnel between onshore bases and offshore production platforms, drilling rigs, and other installations, as well as to transport time-sensitive equipment to these offshore locations.
Further Reading: Understanding Analyst Ratings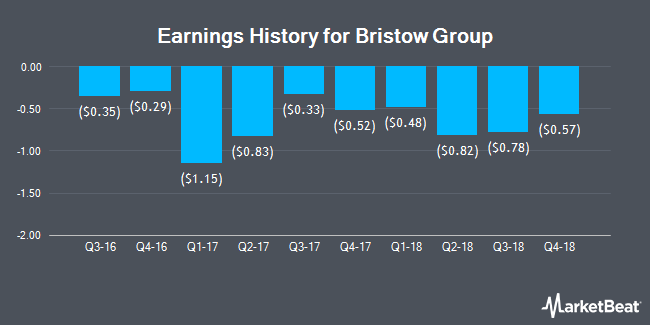 Receive News & Ratings for Bristow Group Daily - Enter your email address below to receive a concise daily summary of the latest news and analysts' ratings for Bristow Group and related companies with MarketBeat.com's FREE daily email newsletter.