Bellway (LON:BWY)'s stock had its "buy" rating reissued by equities research analysts at Liberum Capital in a research note issued to investors on Wednesday. They currently have a GBX 4,080 ($52.82) price objective on the stock. Liberum Capital's price objective indicates a potential upside of 41.96% from the stock's previous close.
A number of other analysts have also recently weighed in on BWY. Peel Hunt raised shares of Bellway to a "buy" rating and increased their price objective for the stock from GBX 3,675 ($47.57) to GBX 3,810 ($49.32) in a report on Thursday, April 19th. Credit Suisse Group reaffirmed an "outperform" rating on shares of Bellway in a report on Friday, May 4th. Shore Capital reaffirmed a "hold" rating on shares of Bellway in a report on Tuesday, June 12th. JPMorgan Chase & Co. reaffirmed an "overweight" rating on shares of Bellway in a report on Wednesday, June 13th. Finally, Berenberg Bank initiated coverage on shares of Bellway in a report on Wednesday, July 25th. They issued a "buy" rating and a GBX 3,760 ($48.67) price objective on the stock. One equities research analyst has rated the stock with a sell rating, three have given a hold rating and ten have given a buy rating to the company's stock. Bellway currently has an average rating of "Buy" and a consensus target price of GBX 3,772.80 ($48.84).
Shares of LON:BWY opened at GBX 2,874 ($37.20) on Wednesday. Bellway has a 1-year low of GBX 2,654 ($34.36) and a 1-year high of GBX 3,805 ($49.26).
About Bellway
Bellway p.l.c., together with its subsidiaries, engages in the house building business in the United Kingdom. It builds and sells homes ranging from one-bedroom apartments to six-bedroom family homes, as well as provides social housing to housing associations. It owns and controls 37,855 plots of land.
See Also: Book Value Of Equity Per Share – BVPS Explained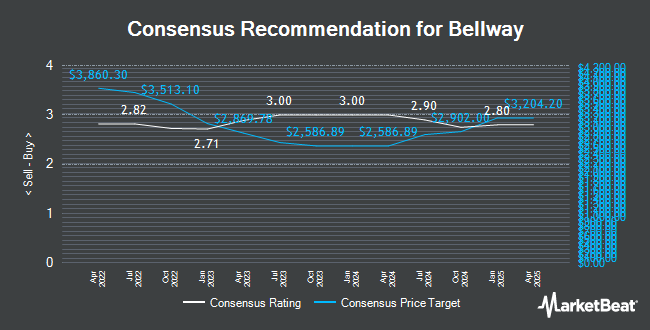 Receive News & Ratings for Bellway Daily - Enter your email address below to receive a concise daily summary of the latest news and analysts' ratings for Bellway and related companies with MarketBeat.com's FREE daily email newsletter.