Blackbaud (NASDAQ:BLKB) updated its FY18 earnings guidance on Monday. The company provided earnings per share (EPS) guidance of $2.46-2.52 for the period, compared to the Thomson Reuters consensus estimate of $2.77. The company issued revenue guidance of $844-854 million, compared to the consensus revenue estimate of $873.65 million.
A number of research analysts have recently weighed in on the company. BidaskClub raised Blackbaud from a hold rating to a buy rating in a research report on Saturday, September 15th. Evercore ISI reaffirmed a sell rating and set a $100.00 price objective on shares of Blackbaud in a research report on Sunday, August 5th. Zacks Investment Research cut Blackbaud from a hold rating to a sell rating in a research report on Thursday, August 2nd. William Blair cut Blackbaud from an outperform rating to a market perform rating in a research report on Tuesday, July 31st. Finally, KeyCorp assumed coverage on Blackbaud in a research report on Monday, July 23rd. They set a sector weight rating on the stock. Two equities research analysts have rated the stock with a sell rating, seven have assigned a hold rating and four have assigned a buy rating to the company. Blackbaud currently has a consensus rating of Hold and an average price target of $104.57.
Shares of BLKB stock traded down $3.52 during trading hours on Monday, reaching $90.01. 367,300 shares of the company traded hands, compared to its average volume of 286,357. The company has a quick ratio of 0.77, a current ratio of 0.77 and a debt-to-equity ratio of 1.35. Blackbaud has a 12-month low of $87.75 and a 12-month high of $120.35. The stock has a market cap of $4.93 billion, a P/E ratio of 56.61, a PEG ratio of 4.69 and a beta of 0.62.
Blackbaud (NASDAQ:BLKB) last posted its quarterly earnings results on Monday, July 30th. The technology company reported $0.69 EPS for the quarter, topping the Zacks' consensus estimate of $0.67 by $0.02. Blackbaud had a return on equity of 27.70% and a net margin of 8.14%. The company had revenue of $214.60 million for the quarter, compared to analysts' expectations of $214.80 million. During the same period in the previous year, the firm earned $0.54 EPS. The firm's revenue was up 11.8% compared to the same quarter last year. On average, equities research analysts expect that Blackbaud will post 1.91 earnings per share for the current fiscal year.
The company also recently disclosed a quarterly dividend, which was paid on Friday, September 14th. Stockholders of record on Tuesday, August 28th were issued a dividend of $0.12 per share. The ex-dividend date was Monday, August 27th. This represents a $0.48 annualized dividend and a dividend yield of 0.53%. Blackbaud's dividend payout ratio (DPR) is 30.19%.
In other news, Director George H. Ellis sold 2,652 shares of the company's stock in a transaction that occurred on Monday, August 13th. The stock was sold at an average price of $96.16, for a total transaction of $255,016.32. Following the sale, the director now directly owns 7,730 shares of the company's stock, valued at approximately $743,316.80. The sale was disclosed in a legal filing with the Securities & Exchange Commission, which can be accessed through this hyperlink. Also, Director Andrew M. Leitch sold 3,000 shares of the company's stock in a transaction that occurred on Friday, August 10th. The stock was sold at an average price of $95.72, for a total value of $287,160.00. Following the sale, the director now directly owns 24,457 shares in the company, valued at $2,341,024.04. The disclosure for this sale can be found here. 1.55% of the stock is owned by corporate insiders.
About Blackbaud
Blackbaud, Inc provides cloud software solutions to nonprofits, foundations, corporations, education institutions, healthcare organizations, and other charitable giving entities primarily in the United States, Canada, the United Kingdom, and Australia. The company offers Raiser's Edge NXT and Blackbaud CRM (constituent relationship management), which are fundraising and relationship management solutions; Luminate CRM for campaign management, constituent relations, business intelligence, and analytics; eTapestry, a cloud fundraising and donor management solution; everydayhero, a cloud crowdfundraising solution; and JustGiving, a social platform for giving.
Further Reading: What is the balance sheet?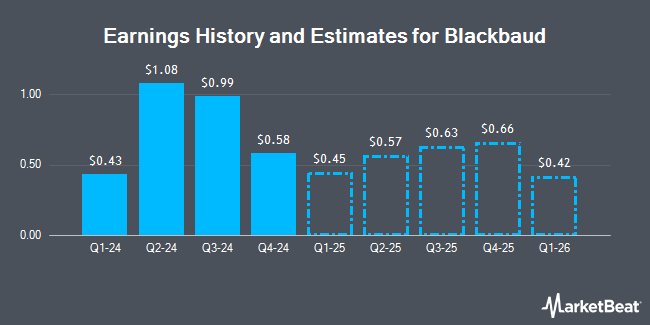 Receive News & Ratings for Blackbaud Daily - Enter your email address below to receive a concise daily summary of the latest news and analysts' ratings for Blackbaud and related companies with MarketBeat.com's FREE daily email newsletter.