BROOKFIELD Rl A/SHS BEN INT (NYSE:RA) announced a monthly dividend on Monday, October 8th, Wall Street Journal reports. Stockholders of record on Wednesday, October 17th will be given a dividend of 0.199 per share on Thursday, October 25th. This represents a $2.39 dividend on an annualized basis and a dividend yield of 10.64%. The ex-dividend date of this dividend is Tuesday, October 16th.
RA opened at $22.45 on Tuesday. BROOKFIELD Rl A/SHS BEN INT has a twelve month low of $21.06 and a twelve month high of $24.36.
In other BROOKFIELD Rl A/SHS BEN INT news, insider Brookfield Investment Manageme purchased 23,167 shares of the business's stock in a transaction dated Wednesday, July 11th. The shares were bought at an average price of $23.00 per share, with a total value of $532,841.00. The acquisition was disclosed in a legal filing with the Securities & Exchange Commission, which is available at this hyperlink.
About BROOKFIELD Rl A/SHS BEN INT
There is no company description available for Brookfield Real Assets Income Fund Inc.
Featured Article: Hedge Funds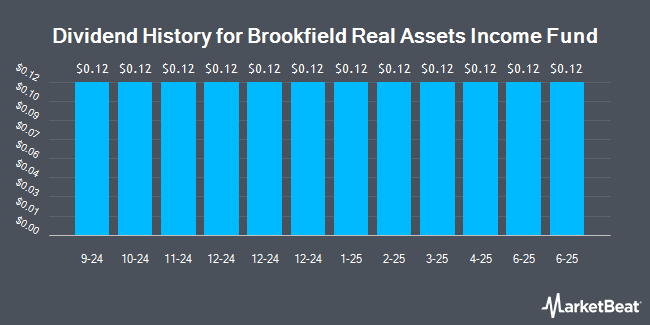 Receive News & Ratings for BROOKFIELD Rl A/SHS BEN INT Daily - Enter your email address below to receive a concise daily summary of the latest news and analysts' ratings for BROOKFIELD Rl A/SHS BEN INT and related companies with MarketBeat.com's FREE daily email newsletter.