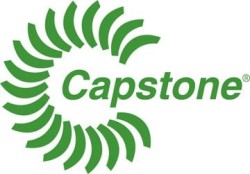 Capstone Turbine (NASDAQ:CPST) issued its quarterly earnings results on Tuesday. The industrial products company reported ($0.07) earnings per share for the quarter, missing the Zacks' consensus estimate of ($0.05) by ($0.02), Fidelity Earnings reports. Capstone Turbine had a negative net margin of 12.77% and a negative return on equity of 47.04%. The business had revenue of $22.17 million during the quarter, compared to analyst estimates of $21.80 million.
CPST stock traded down $0.02 during mid-day trading on Wednesday, reaching $0.83. 598,291 shares of the stock traded hands, compared to its average volume of 819,687. Capstone Turbine has a 52-week low of $0.69 and a 52-week high of $1.90. The firm has a market capitalization of $54.06 million, a PE ratio of -4.10 and a beta of -0.11.
A number of equities research analysts have weighed in on CPST shares. HC Wainwright set a $2.00 price target on shares of Capstone Turbine and gave the company a "buy" rating in a report on Friday, October 5th. ValuEngine raised shares of Capstone Turbine from a "sell" rating to a "hold" rating in a report on Friday, August 10th. Zacks Investment Research raised shares of Capstone Turbine from a "strong sell" rating to a "hold" rating in a report on Tuesday, October 9th. Finally, Maxim Group started coverage on shares of Capstone Turbine in a report on Wednesday, August 1st. They issued a "buy" rating and a $2.50 price target for the company. Two analysts have rated the stock with a hold rating and four have given a buy rating to the stock. The company presently has an average rating of "Buy" and an average price target of $2.25.
TRADEMARK VIOLATION WARNING: This news story was posted by WKRB News and is the sole property of of WKRB News. If you are viewing this news story on another site, it was copied illegally and republished in violation of US and international trademark & copyright law. The original version of this news story can be viewed at https://www.wkrb13.com/2018/11/07/capstone-turbine-cpst-announces-earnings-results.html.
About Capstone Turbine
Capstone Turbine Corporation develops, manufactures, markets, and services microturbine technology solutions for use in stationary distributed power generation applications worldwide. It offers microturbine units, components, and various accessories for applications, including cogeneration comprising combined heat and power (CHP) and integrated CHP, as well as combined cooling, heat, and power; and renewable energy, natural resources, and critical power supply.
See Also: Marijuana Stocks
Receive News & Ratings for Capstone Turbine Daily - Enter your email address below to receive a concise daily summary of the latest news and analysts' ratings for Capstone Turbine and related companies with MarketBeat.com's FREE daily email newsletter.