Welbilt (NYSE:WBT) updated its FY 2018 earnings guidance on Monday. The company provided earnings per share guidance of $0.73-0.81 for the period, compared to the Thomson Reuters consensus earnings per share estimate of $0.88. Welbilt also updated its FY18 guidance to $0.73-0.81 EPS.
A number of research analysts have recently weighed in on the stock. Barclays set a $25.00 target price on shares of Welbilt and gave the company a buy rating in a research report on Monday, August 20th. Citigroup reduced their target price on shares of Welbilt from $24.00 to $23.00 and set a neutral rating for the company in a research report on Wednesday, August 15th. Zacks Investment Research raised shares of Welbilt from a hold rating to a buy rating and set a $26.00 target price for the company in a research report on Thursday, July 26th. KeyCorp reduced their target price on shares of Welbilt from $25.00 to $22.00 and set an overweight rating for the company in a research report on Tuesday. Finally, Wedbush cut their price objective on shares of Welbilt from $29.00 to $24.00 and set a buy rating for the company in a report on Tuesday. Three analysts have rated the stock with a hold rating and eight have given a buy rating to the stock. The company presently has a consensus rating of Buy and an average price target of $21.75.
WBT traded up $0.20 on Wednesday, hitting $14.20. The company's stock had a trading volume of 599,057 shares, compared to its average volume of 1,190,511. The company has a market cap of $2.71 billion, a PE ratio of 18.44 and a beta of 1.23. Welbilt has a 12 month low of $13.40 and a 12 month high of $23.85. The company has a current ratio of 1.41, a quick ratio of 0.80 and a debt-to-equity ratio of 10.00.
Welbilt (NYSE:WBT) last posted its earnings results on Monday, November 5th. The industrial products company reported $0.25 earnings per share (EPS) for the quarter, missing the Thomson Reuters' consensus estimate of $0.28 by ($0.03). Welbilt had a return on equity of 110.60% and a net margin of 8.14%. The firm had revenue of $412.90 million during the quarter, compared to analysts' expectations of $421.89 million. During the same quarter in the prior year, the company earned $0.22 earnings per share. The business's revenue for the quarter was up 8.5% compared to the same quarter last year. Research analysts forecast that Welbilt will post 0.77 earnings per share for the current fiscal year.
In other Welbilt news, EVP Richard N. Caron sold 9,000 shares of the stock in a transaction that occurred on Thursday, September 6th. The shares were sold at an average price of $21.88, for a total value of $196,920.00. Following the sale, the executive vice president now directly owns 100 shares in the company, valued at approximately $2,188. The transaction was disclosed in a filing with the Securities & Exchange Commission, which is accessible through the SEC website. Corporate insiders own 0.37% of the company's stock.
COPYRIGHT VIOLATION WARNING: This article was posted by WKRB News and is owned by of WKRB News. If you are viewing this article on another website, it was illegally stolen and republished in violation of United States and international copyright & trademark law. The correct version of this article can be read at https://www.wkrb13.com/2018/11/07/welbilt-wbt-updates-fy-2018-earnings-guidance.html.
Welbilt Company Profile
Welbilt is a leading global supplier of commercial foodservice equipment. Their broad, award-winning hot- and cold-side product portfolio includes many brands, including Cleveland Range, Convotherm, Delfield, Frymaster, Garland, Kolpak, Lincoln, Manitowac, Merco, Merrychef, and Multiplex Beverage.
Read More: Ex-Dividend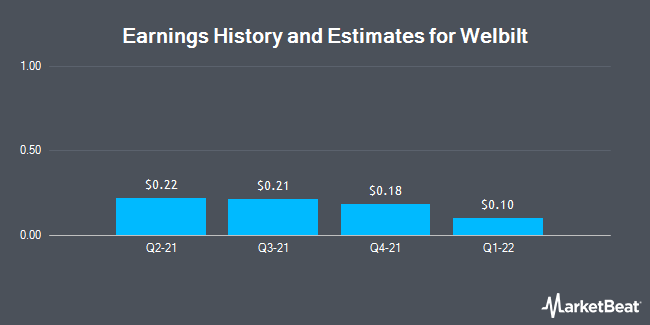 Receive News & Ratings for Welbilt Daily - Enter your email address below to receive a concise daily summary of the latest news and analysts' ratings for Welbilt and related companies with MarketBeat.com's FREE daily email newsletter.