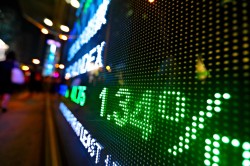 BioNano Genomics (NASDAQ:BNGO) Director Christopher J. Twomey acquired 10,000 shares of the business's stock in a transaction that occurred on Thursday, August 23rd. The stock was bought at an average cost of $6.13 per share, for a total transaction of $61,300.00. The purchase was disclosed in a filing with the Securities & Exchange Commission, which is accessible through this hyperlink.
BioNano Genomics stock opened at $7.19 on Thursday. BioNano Genomics has a one year low of $5.51 and a one year high of $10.00.
A number of research firms recently commented on BNGO. ValuEngine raised BioNano Genomics from a "hold" rating to a "buy" rating in a research note on Wednesday. Maxim Group began coverage on BioNano Genomics in a research note on Tuesday, September 25th. They issued a "buy" rating on the stock. Finally, Roth Capital began coverage on BioNano Genomics in a research note on Wednesday, September 26th. They issued a "buy" rating and a $12.00 price objective on the stock.
COPYRIGHT VIOLATION WARNING: "BioNano Genomics (BNGO) Director Purchases $61,300.00 in Stock" was reported by WKRB News and is the property of of WKRB News. If you are accessing this article on another publication, it was copied illegally and republished in violation of US and international copyright and trademark legislation. The legal version of this article can be viewed at https://www.wkrb13.com/2018/11/08/bionano-genomics-bngo-director-purchases-61300-00-in-stock.html.
About BioNano Genomics
BioNano Genomics, Inc operates as a life sciences instrumentation company in the genome analysis space. The company develops and markets the Saphyr system, a platform for ultra-sensitive and ultra-specific structural variation detection that enables researchers and clinicians to accelerate the search for new diagnostics and therapeutic targets and to streamline the study of changes in chromosomes, which is known as cytogenetics.
Read More: How is the discount rate different from the Federal Funds rate?

Receive News & Ratings for BioNano Genomics Daily - Enter your email address below to receive a concise daily summary of the latest news and analysts' ratings for BioNano Genomics and related companies with MarketBeat.com's FREE daily email newsletter.