Tetra Tech (NASDAQ:TTEK) updated its first quarter earnings guidance on Wednesday. The company provided earnings per share guidance of $0.60-0.65 for the period, compared to the Thomson Reuters consensus earnings per share estimate of $0.63. The company issued revenue guidance of $525-575 million, compared to the consensus revenue estimate of $574.46 million.Tetra Tech also updated its FY19 guidance to $2.75-2.95 EPS.
A number of analysts have recently commented on the company. Robert W. Baird set a $70.00 target price on Tetra Tech and gave the stock a hold rating in a research report on Thursday. Maxim Group set a $87.00 target price on Tetra Tech and gave the stock a buy rating in a research report on Thursday. Roth Capital raised their price target on Tetra Tech from $59.00 to $73.00 and gave the stock a buy rating in a report on Monday, August 6th. BidaskClub lowered Tetra Tech from a strong-buy rating to a buy rating in a report on Tuesday, July 17th. Finally, Zacks Investment Research raised Tetra Tech from a sell rating to a buy rating and set a $74.00 price target on the stock in a report on Monday, August 6th. Two analysts have rated the stock with a hold rating and seven have given a buy rating to the stock. The company currently has a consensus rating of Buy and a consensus target price of $70.71.
Shares of NASDAQ TTEK traded up $2.83 during midday trading on Thursday, reaching $71.64. 235,742 shares of the company were exchanged, compared to its average volume of 241,371. The company has a quick ratio of 2.01, a current ratio of 2.01 and a debt-to-equity ratio of 0.45. Tetra Tech has a 1 year low of $44.65 and a 1 year high of $72.20. The firm has a market cap of $3.72 billion, a P/E ratio of 33.63, a P/E/G ratio of 1.66 and a beta of 0.98.
Tetra Tech (NASDAQ:TTEK) last released its quarterly earnings results on Wednesday, November 7th. The industrial products company reported $0.75 earnings per share (EPS) for the quarter, topping the Zacks' consensus estimate of $0.74 by $0.01. Tetra Tech had a return on equity of 15.31% and a net margin of 4.82%. The firm had revenue of $563.67 million for the quarter, compared to analyst estimates of $571.33 million. During the same quarter last year, the company posted $0.63 earnings per share. The business's revenue was up 5.7% on a year-over-year basis. As a group, analysts anticipate that Tetra Tech will post 2.65 earnings per share for the current year.
ILLEGAL ACTIVITY NOTICE: This piece of content was reported by WKRB News and is the sole property of of WKRB News. If you are viewing this piece of content on another site, it was copied illegally and reposted in violation of United States and international copyright law. The correct version of this piece of content can be read at https://www.wkrb13.com/2018/11/08/tetra-tech-ttek-updates-q1-earnings-guidance.html.
Tetra Tech Company Profile
Tetra Tech, Inc provides consulting and engineering services worldwide. It operates through two segments, Water, Environment and Infrastructure (WEI); and Resource Management and Energy (RME). The WEI segment offers early data collection and monitoring, data analysis and information technology, science and engineering applied research, engineering design, construction management, and operations and maintenance services; and climate change and energy management consulting, as well as greenhouse gas inventory assessment, certification, reduction, and management services.
Recommended Story: Capital gains and your 401(k) or IRA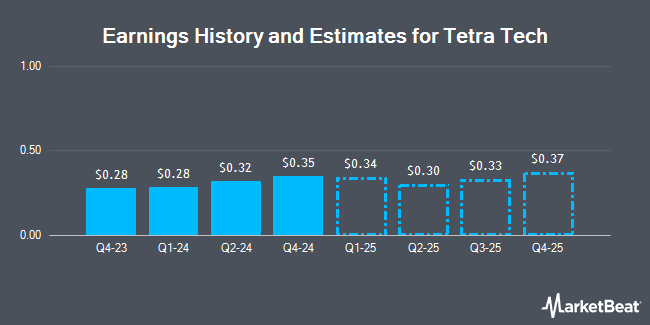 Receive News & Ratings for Tetra Tech Daily - Enter your email address below to receive a concise daily summary of the latest news and analysts' ratings for Tetra Tech and related companies with MarketBeat.com's FREE daily email newsletter.