Ardelyx (NASDAQ:ARDX) released its earnings results on Wednesday. The biopharmaceutical company reported ($0.39) EPS for the quarter, topping analysts' consensus estimates of ($0.41) by $0.02, Fidelity Earnings reports.
Shares of ARDX stock opened at $3.08 on Friday. Ardelyx has a 12-month low of $2.66 and a 12-month high of $8.10. The firm has a market capitalization of $204.77 million, a PE ratio of -2.26 and a beta of 1.33. The company has a debt-to-equity ratio of 0.30, a current ratio of 14.21 and a quick ratio of 14.21.
ARDX has been the subject of a number of analyst reports. Jefferies Financial Group initiated coverage on shares of Ardelyx in a report on Friday, August 24th. They set a "buy" rating and a $7.00 target price for the company. BidaskClub raised shares of Ardelyx from a "sell" rating to a "hold" rating in a report on Friday, September 28th. Zacks Investment Research lowered shares of Ardelyx from a "buy" rating to a "hold" rating in a report on Monday, August 13th. Finally, Citigroup decreased their price target on shares of Ardelyx from $17.00 to $11.00 and set a "buy" rating for the company in a report on Thursday, August 9th. Three analysts have rated the stock with a hold rating and six have assigned a buy rating to the company's stock. Ardelyx currently has an average rating of "Buy" and an average price target of $10.82.
ILLEGAL ACTIVITY WARNING: This story was originally posted by WKRB News and is the sole property of of WKRB News. If you are accessing this story on another publication, it was copied illegally and reposted in violation of United States and international copyright and trademark legislation. The legal version of this story can be accessed at https://www.wkrb13.com/2018/11/09/ardelyx-ardx-announces-earnings-results.html.
About Ardelyx
Ardelyx, Inc, a specialized biopharmaceutical company, develops and sells disruptive medicines for the treatment of cardio renal and gastrointestinal diseases in the United States and Asia Pacific. The company's lead product candidate is tenapanor, which has completed Phase III clinical trial for the treatment of patients with irritable bowel syndrome with constipation, as well as in Phase III clinical trial for the treatment of hyperphosphatemia in end-stage renal disease patients on dialysis.
Further Reading: The Discount Rate – What You Need to Know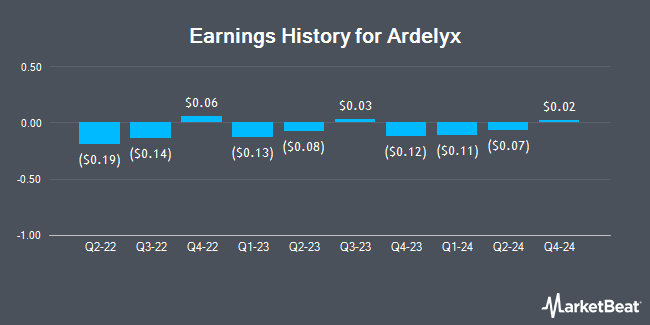 Receive News & Ratings for Ardelyx Daily - Enter your email address below to receive a concise daily summary of the latest news and analysts' ratings for Ardelyx and related companies with MarketBeat.com's FREE daily email newsletter.