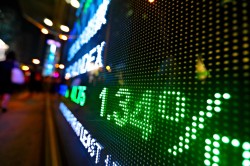 BAE Systems (OTCMKTS:BAESF) was upgraded by investment analysts at Raymond James to a "hold" rating in a research note issued on Friday.
OTCMKTS:BAESF traded down $0.06 during trading on Friday, reaching $7.00. The company's stock had a trading volume of 1,410 shares, compared to its average volume of 8,354. BAE Systems has a 12 month low of $6.50 and a 12 month high of $8.98.
An institutional investor recently bought a new position in BAE Systems stock. Fis Group Inc. acquired a new position in shares of BAE Systems plc (OTCMKTS:BAESF) during the second quarter, according to the company in its most recent Form 13F filing with the Securities and Exchange Commission. The institutional investor acquired 134,446 shares of the company's stock, valued at approximately $1,096,000.
BAE Systems Company Profile
BAE Systems plc operates as a defense, aerospace, and security company worldwide. Its Electronic Systems segment offers electronic warfare systems and electro-optical sensors, military and commercial digital engine and flight controls, precision guidance and seeker solutions, military communication systems and data links, persistent surveillance systems, and hybrid electric drive systems.
Read More: Investing in Growth Stocks

Receive News & Ratings for BAE Systems Daily - Enter your email address below to receive a concise daily summary of the latest news and analysts' ratings for BAE Systems and related companies with MarketBeat.com's FREE daily email newsletter.