Stella-Jones (TSE:SJ) had its price objective lowered by CIBC from C$50.00 to C$47.00 in a research note published on Tuesday morning.
SJ has been the topic of a number of other reports. TD Securities cut their price target on Stella-Jones from C$54.00 to C$52.00 and set a buy rating on the stock in a research note on Monday. Desjardins upgraded Stella-Jones from a hold rating to a buy rating in a research note on Wednesday, August 15th. National Bank Financial raised their price target on Stella-Jones from C$53.00 to C$55.00 and gave the company an outperform rating in a research note on Tuesday, August 14th. Finally, Scotiabank restated a hold rating and issued a C$46.00 price target on shares of Stella-Jones in a research note on Monday. One equities research analyst has rated the stock with a hold rating and seven have assigned a buy rating to the stock. Stella-Jones presently has an average rating of Buy and a consensus price target of C$51.25.
Shares of TSE SJ opened at C$42.36 on Tuesday. Stella-Jones has a 12-month low of C$39.88 and a 12-month high of C$52.22.
Stella-Jones (TSE:SJ) last posted its quarterly earnings results on Friday, November 2nd. The company reported C$0.66 earnings per share for the quarter, beating the Zacks' consensus estimate of C$0.65 by C$0.01. The business had revenue of C$630.00 million during the quarter, compared to analyst estimates of C$571.83 million.
The firm also recently declared a quarterly dividend, which will be paid on Thursday, December 20th. Shareholders of record on Monday, December 3rd will be paid a $0.12 dividend. This represents a $0.48 dividend on an annualized basis and a yield of 1.13%. The ex-dividend date of this dividend is Friday, November 30th.
Stella-Jones Company Profile
Stella-Jones Inc produces, markets, and sells pressure treated wood products in Canada and the United States. It offers railway ties and timbers for railroad operators; and utility poles for electrical utilities and telecommunication companies. The company also provides residential lumber and accessories to retailers and wholesalers for use in decks, fences, patios, and other outdoor applications; and industrial products, including bridge timbers and docks, foundation and marine pilings, highway guardrail posts, and panelized railway crossings; and construction timbers.
Further Reading: What is a conference call?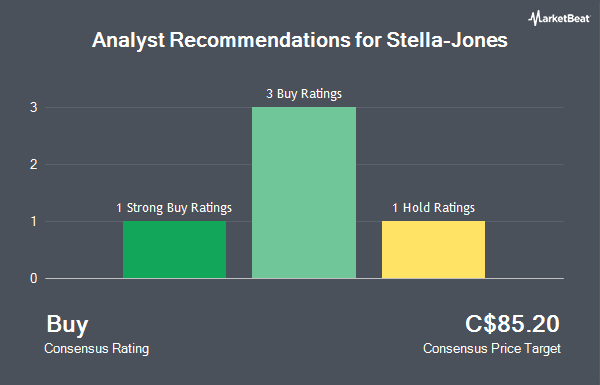 Receive News & Ratings for Stella-Jones Daily - Enter your email address below to receive a concise daily summary of the latest news and analysts' ratings for Stella-Jones and related companies with MarketBeat.com's FREE daily email newsletter.