InnerWorkings (NASDAQ:INWK) updated its FY 2018 earnings guidance on Thursday. The company provided earnings per share guidance of $0.17-0.20 for the period, compared to the Thomson Reuters consensus earnings per share estimate of $0.30. The company issued revenue guidance of $1.12-1.135 billion, compared to the consensus revenue estimate of $1.16 billion.
A number of brokerages recently issued reports on INWK. Zacks Investment Research raised InnerWorkings from a strong sell rating to a hold rating in a research report on Wednesday, October 24th. BidaskClub downgraded InnerWorkings from a sell rating to a strong sell rating in a research report on Thursday. ValuEngine raised InnerWorkings from a strong sell rating to a sell rating in a research report on Saturday, September 1st. Barrington Research downgraded InnerWorkings from an outperform rating to a market perform rating in a research report on Wednesday, August 1st. Finally, Craig Hallum downgraded InnerWorkings from a buy rating to a hold rating and set a $10.00 price target on the stock. in a research report on Wednesday, August 1st. Two research analysts have rated the stock with a sell rating, three have given a hold rating and one has assigned a buy rating to the stock. The stock has a consensus rating of Hold and an average price target of $11.33.
Shares of INWK stock traded down $2.81 during trading hours on Friday, reaching $4.23. The company's stock had a trading volume of 34,823 shares, compared to its average volume of 169,595. The company has a market cap of $373.55 million, a PE ratio of 10.41, a P/E/G ratio of 1.74 and a beta of 1.53. InnerWorkings has a fifty-two week low of $5.90 and a fifty-two week high of $11.04. The company has a debt-to-equity ratio of 0.12, a quick ratio of 0.92 and a current ratio of 1.04.
InnerWorkings (NASDAQ:INWK) last issued its earnings results on Thursday, November 8th. The business services provider reported $0.04 earnings per share for the quarter, missing the Zacks' consensus estimate of $0.12 by ($0.08). The business had revenue of $270.85 million during the quarter, compared to analyst estimates of $294.87 million. InnerWorkings had a net margin of 0.61% and a return on equity of 3.93%. On average, equities analysts predict that InnerWorkings will post 0.31 EPS for the current fiscal year.
In other InnerWorkings news, CEO Richard S. Stoddart bought 6,847 shares of InnerWorkings stock in a transaction on Tuesday, August 21st. The shares were purchased at an average price of $7.67 per share, with a total value of $52,516.49. Following the acquisition, the chief executive officer now owns 85,878 shares in the company, valued at approximately $658,684.26. The acquisition was disclosed in a legal filing with the SEC, which can be accessed through this link. Company insiders own 6.40% of the company's stock.
A hedge fund recently raised its stake in InnerWorkings stock. Bank of New York Mellon Corp lifted its position in shares of InnerWorkings, Inc. (NASDAQ:INWK) by 8.0% during the 2nd quarter, according to the company in its most recent 13F filing with the Securities & Exchange Commission. The institutional investor owned 220,552 shares of the business services provider's stock after acquiring an additional 16,379 shares during the quarter. Bank of New York Mellon Corp owned approximately 0.42% of InnerWorkings worth $1,916,000 at the end of the most recent reporting period. Institutional investors and hedge funds own 82.54% of the company's stock.
COPYRIGHT VIOLATION NOTICE: "InnerWorkings (INWK) Updates FY 2018 Earnings Guidance" was first posted by WKRB News and is the sole property of of WKRB News. If you are accessing this story on another publication, it was stolen and reposted in violation of United States and international copyright legislation. The correct version of this story can be accessed at https://www.wkrb13.com/2018/11/09/innerworkings-inwk-updates-fy-2018-earnings-guidance.html.
About InnerWorkings
InnerWorkings, Inc provides marketing execution solutions in North America and internationally. The company's software applications and databases create an integrated solution that stores, analyzes, and tracks the production capabilities of its supplier network, as well as detailed pricing data.
Featured Story: Benefits of owning preferred stock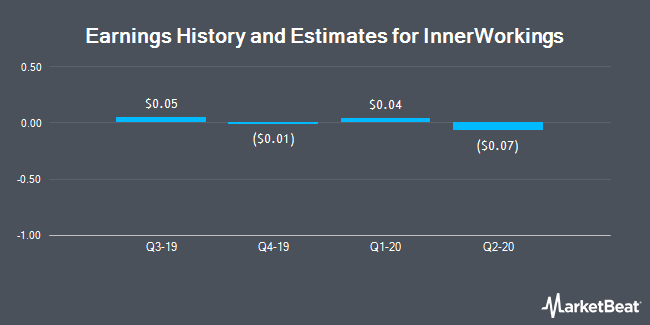 Receive News & Ratings for InnerWorkings Daily - Enter your email address below to receive a concise daily summary of the latest news and analysts' ratings for InnerWorkings and related companies with MarketBeat.com's FREE daily email newsletter.