Kronos Worldwide (NYSE:KRO) announced its earnings results on Wednesday. The specialty chemicals company reported $0.28 earnings per share for the quarter, missing the Thomson Reuters' consensus estimate of $0.77 by ($0.49), Briefing.com reports. The company had revenue of $410.30 million for the quarter, compared to analysts' expectations of $467.00 million. Kronos Worldwide had a return on equity of 40.78% and a net margin of 14.81%. The company's quarterly revenue was down 11.7% compared to the same quarter last year. During the same period last year, the business earned $0.64 EPS.
Shares of NYSE KRO traded up $0.21 during midday trading on Friday, hitting $13.32. The company's stock had a trading volume of 33,424 shares, compared to its average volume of 444,477. The company has a debt-to-equity ratio of 0.61, a quick ratio of 3.08 and a current ratio of 4.64. Kronos Worldwide has a 1 year low of $12.79 and a 1 year high of $29.49. The firm has a market cap of $1.79 billion, a price-to-earnings ratio of 7.06, a PEG ratio of 0.45 and a beta of 2.38.
The firm also recently disclosed a quarterly dividend, which will be paid on Thursday, December 13th. Stockholders of record on Tuesday, December 4th will be paid a $0.17 dividend. This represents a $0.68 annualized dividend and a dividend yield of 5.11%. The ex-dividend date is Monday, December 3rd. Kronos Worldwide's payout ratio is 36.17%.
Several research analysts have weighed in on the stock. SunTrust Banks reaffirmed a "hold" rating and set a $24.00 target price on shares of Kronos Worldwide in a research note on Friday, July 20th. Barclays lowered their target price on shares of Kronos Worldwide from $26.00 to $24.00 and set an "underweight" rating for the company in a research note on Monday, August 13th. Finally,
ValuEngine
lowered shares of Kronos Worldwide from a "sell" rating to a "strong sell" rating in a research note on Saturday, September 1st. Two equities research analysts have rated the stock with a sell rating, two have issued a hold rating and one has issued a buy rating to the company's stock. The stock presently has an average rating of "Hold" and an average price target of $25.50.
TRADEMARK VIOLATION WARNING: "Kronos Worldwide (KRO) Announces Quarterly Earnings Results" was originally reported by WKRB News and is owned by of WKRB News. If you are viewing this article on another publication, it was stolen and republished in violation of US and international trademark and copyright laws. The correct version of this article can be viewed at https://www.wkrb13.com/2018/11/09/kronos-worldwide-kro-announces-quarterly-earnings-results.html.
About Kronos Worldwide
Kronos Worldwide, Inc produces and markets titanium dioxide pigments (TiO2) in Europe, North America, the Asia Pacific, and internationally. It produces TiO2 in two crystalline forms, rutile and anatase to impart whiteness, brightness, opacity, and durability for various products, such as paints, coatings, plastics, paper, fibers, and ceramics, as well as for various specialty products, such as inks, food, and cosmetics.
Featured Article: Day Trading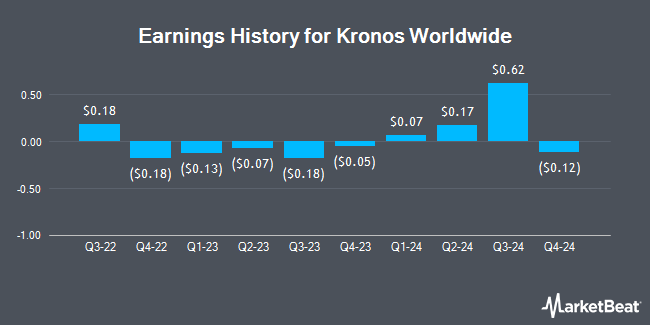 Receive News & Ratings for Kronos Worldwide Daily - Enter your email address below to receive a concise daily summary of the latest news and analysts' ratings for Kronos Worldwide and related companies with MarketBeat.com's FREE daily email newsletter.