Magellan Health (NASDAQ:MGLN) issued an update on its FY18 earnings guidance on Wednesday morning. The company provided EPS guidance of $4.26-4.90 for the period, compared to the Thomson Reuters consensus EPS estimate of $5.40. The company issued revenue guidance of $7.30-7.50 billion, compared to the consensus revenue estimate of $7.37 billion.
NASDAQ:MGLN traded up $1.26 during mid-day trading on Thursday, reaching $64.15. The company's stock had a trading volume of 722,994 shares, compared to its average volume of 224,604. Magellan Health has a 12-month low of $61.71 and a 12-month high of $112.25. The company has a debt-to-equity ratio of 0.56, a quick ratio of 1.58 and a current ratio of 1.63. The firm has a market cap of $1.72 billion, a price-to-earnings ratio of 11.66, a price-to-earnings-growth ratio of 1.56 and a beta of 0.52.
Magellan Health (NASDAQ:MGLN) last issued its earnings results on Wednesday, November 7th. The company reported $1.45 earnings per share for the quarter, topping the Zacks' consensus estimate of $1.17 by $0.28. Magellan Health had a return on equity of 11.29% and a net margin of 1.66%. The business had revenue of $1.85 billion during the quarter, compared to analyst estimates of $1.85 billion. During the same quarter in the previous year, the firm earned $1.64 EPS. Magellan Health's revenue was up 30.6% on a year-over-year basis. As a group, research analysts predict that Magellan Health will post 4.47 earnings per share for the current year.
A number of equities analysts have weighed in on MGLN shares. BidaskClub lowered Magellan Health from a strong-buy rating to a buy rating in a research report on Friday, August 31st. Raymond James decreased their target price on Magellan Health from $105.00 to $85.00 and set a buy rating for the company in a research report on Monday, July 30th.
ValuEngine
lowered Magellan Health from a buy rating to a hold rating in a research report on Friday, July 20th. Finally,
Zacks Investment Research
lowered Magellan Health from a buy rating to a hold rating in a research report on Tuesday, July 17th. Two equities research analysts have rated the stock with a sell rating, one has issued a hold rating and three have issued a buy rating to the company. The company currently has a consensus rating of Hold and a consensus price target of $99.33.
ILLEGAL ACTIVITY NOTICE: "Magellan Health (MGLN) Issues FY18 Earnings Guidance" was posted by WKRB News and is owned by of WKRB News. If you are reading this news story on another domain, it was stolen and republished in violation of U.S. & international trademark & copyright law. The original version of this news story can be read at https://www.wkrb13.com/2018/11/09/magellan-health-mgln-issues-fy18-earnings-guidance.html.
Magellan Health Company Profile
Magellan Health, Inc engages in the healthcare management business. It operates through the following segments: Healthcare, Pharmacy Management, and Corporate. The Healthcare segment comprises of the Commercial and Government reporting units. The Pharmacy Management segment offers products and solutions that provide clinical and financial management of pharmaceuticals paid under both the medical and the pharmacy benefit.The Corporate segment covers amounts not allocated to the Healthcare and Pharmacy Management segments.
Further Reading: Stock Symbols Definition, Examples, Lookup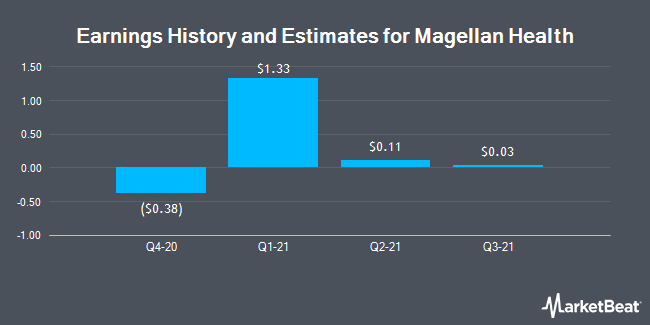 Receive News & Ratings for Magellan Health Daily - Enter your email address below to receive a concise daily summary of the latest news and analysts' ratings for Magellan Health and related companies with MarketBeat.com's FREE daily email newsletter.