Obsidian Energy (NYSE:OBE) (TSE:PWT) announced its quarterly earnings data on Thursday. The oil and gas company reported ($0.05) earnings per share for the quarter, missing the Thomson Reuters' consensus estimate of ($0.03) by ($0.02), MarketWatch Earnings reports. The company had revenue of $94.88 million during the quarter. Obsidian Energy had a negative net margin of 59.90% and a negative return on equity of 11.33%.
NYSE OBE traded down $0.06 during midday trading on Friday, hitting $0.62. The company had a trading volume of 1,560,703 shares, compared to its average volume of 1,195,398. The stock has a market capitalization of $357.46 million, a PE ratio of -4.77 and a beta of 4.37. The company has a debt-to-equity ratio of 0.19, a current ratio of 0.46 and a quick ratio of 0.46. Obsidian Energy has a twelve month low of $0.62 and a twelve month high of $1.44.
Separately, ValuEngine raised Obsidian Energy from a "sell" rating to a "hold" rating in a report on Tuesday, October 2nd. Three research analysts have rated the stock with a hold rating and three have issued a buy rating to the stock. The stock currently has a consensus rating of "Buy" and an average target price of $1.48.
ILLEGAL ACTIVITY WARNING: This story was published by WKRB News and is the property of of WKRB News. If you are accessing this story on another site, it was copied illegally and republished in violation of international trademark and copyright law. The original version of this story can be viewed at https://www.wkrb13.com/2018/11/09/obsidian-energy-obe-issues-quarterly-earnings-results.html.
About Obsidian Energy
Obsidian Energy Ltd. explores for, develops, and produces oil and natural gas in western Canada. The company primarily holds interests in the Cardium development area that covers an area of approximately 450 net sections of developed and undeveloped land located in west central Alberta; Peace River development area covering an area of 235 net sections of developed and undeveloped land located in northwestern Alberta; and Viking development area that covers an area of approximately 170 net sections of developed and undeveloped land located in Eastern Alberta.
Recommended Story: Hedge Funds – How They Work For Investors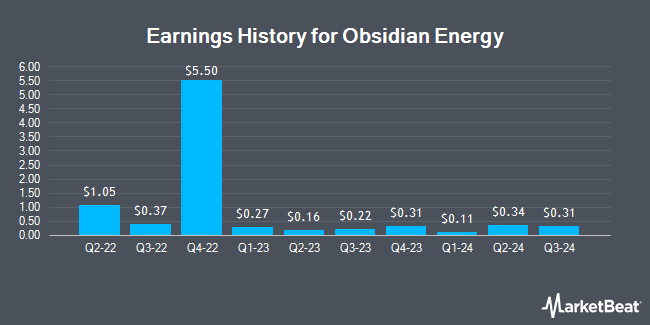 Receive News & Ratings for Obsidian Energy Daily - Enter your email address below to receive a concise daily summary of the latest news and analysts' ratings for Obsidian Energy and related companies with MarketBeat.com's FREE daily email newsletter.