Pearson plc (LON:PSON) has received a consensus rating of "Hold" from the thirteen research firms that are covering the company, MarketBeat Ratings reports. Seven investment analysts have rated the stock with a sell rating, three have given a hold rating and three have assigned a buy rating to the company. The average 1 year price target among brokers that have issued ratings on the stock in the last year is GBX 756 ($9.88).
PSON has been the topic of several research analyst reports. Liberum Capital reaffirmed a "sell" rating and set a GBX 450 ($5.88) price objective on shares of Pearson in a research note on Tuesday, October 30th. Deutsche Bank raised their price objective on Pearson from GBX 525 ($6.86) to GBX 575 ($7.51) and gave the stock a "sell" rating in a research note on Thursday, July 12th. Berenberg Bank reaffirmed a "sell" rating on shares of Pearson in a research note on Thursday, October 18th. Shore Capital raised Pearson to a "buy" rating in a research note on Wednesday, October 17th. Finally, Barclays lifted their price target on Pearson from GBX 815 ($10.65) to GBX 835 ($10.91) and gave the company an "underweight" rating in a research note on Monday, July 30th.
Shares of Pearson stock opened at GBX 918 ($12.00) on Friday. Pearson has a 12 month low of GBX 563 ($7.36) and a 12 month high of GBX 775.80 ($10.14).
About Pearson
Pearson plc provides educational products and services to institutions, governments, professional bodies, and individual learners worldwide. The company operates through three segments: North America, Core, and Growth. It offers courseware services, including curriculum materials provided in book form and/or via access to digital content; and assessments, such as test development, processing, and scoring services.
Further Reading: How to Calculate Compound Annual Growth Rate (CAGR)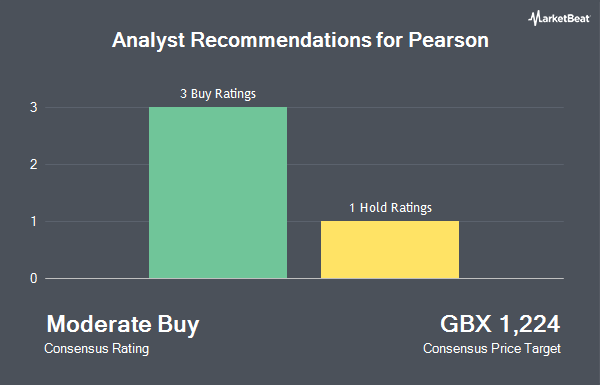 Receive News & Ratings for Pearson Daily - Enter your email address below to receive a concise daily summary of the latest news and analysts' ratings for Pearson and related companies with MarketBeat.com's FREE daily email newsletter.