Triumph Group (NYSE:TGI) updated its FY 2019 earnings guidance on Thursday. The company provided earnings per share (EPS) guidance of $1.50-2.10 for the period, compared to the Thomson Reuters consensus estimate of $1.88. The company issued revenue guidance of $3.3-3.4 billion, compared to the consensus revenue estimate of $3.36 billion.Triumph Group also updated its FY19 guidance to $1.50-2.10 EPS.
A number of research analysts recently issued reports on the stock. ValuEngine upgraded shares of Triumph Group from a strong sell rating to a sell rating in a research note on Tuesday. Zacks Investment Research upgraded shares of Triumph Group from a sell rating to a hold rating in a research report on Tuesday, October 16th. Barclays decreased their price target on shares of Triumph Group from $28.00 to $23.00 and set an equal weight rating on the stock in a research report on Tuesday, September 4th. UBS Group initiated coverage on shares of Triumph Group in a research report on Wednesday, August 15th. They issued a sell rating and a $19.00 price target on the stock. Finally, Bank of America decreased their price target on shares of Triumph Group from $29.00 to $24.00 and set an underperform rating on the stock in a research report on Wednesday, August 15th. Three equities research analysts have rated the stock with a sell rating, six have issued a hold rating and two have given a buy rating to the company. The stock presently has an average rating of Hold and an average target price of $24.50.
NYSE TGI traded down $2.00 during midday trading on Thursday, hitting $19.62. The company had a trading volume of 1,248,874 shares, compared to its average volume of 630,553. The company has a debt-to-equity ratio of 3.16, a current ratio of 1.23 and a quick ratio of 0.81. The firm has a market capitalization of $1.05 billion, a price-to-earnings ratio of 7.75, a P/E/G ratio of 0.86 and a beta of 1.90. Triumph Group has a fifty-two week low of $16.80 and a fifty-two week high of $34.20.
Triumph Group (NYSE:TGI) last posted its quarterly earnings results on Thursday, November 8th. The aerospace company reported $0.40 earnings per share (EPS) for the quarter, hitting the consensus estimate of $0.40. The company had revenue of $855.11 million for the quarter, compared to analyst estimates of $801.52 million. Triumph Group had a negative net margin of 15.20% and a positive return on equity of 28.57%. The business's quarterly revenue was up 14.8% on a year-over-year basis. During the same period last year, the business posted $0.52 EPS. As a group, sell-side analysts expect that Triumph Group will post 1.85 earnings per share for the current fiscal year.
In other news, Director Joseph Silvestri sold 5,000 shares of the firm's stock in a transaction dated Wednesday, September 12th. The shares were sold at an average price of $22.00, for a total transaction of $110,000.00. Following the completion of the transaction, the director now directly owns 107,662 shares of the company's stock, valued at approximately $2,368,564. The transaction was disclosed in a legal filing with the Securities & Exchange Commission, which is available through this hyperlink. 1.50% of the stock is currently owned by company insiders.
COPYRIGHT VIOLATION WARNING: This news story was originally reported by WKRB News and is the sole property of of WKRB News. If you are reading this news story on another site, it was copied illegally and reposted in violation of United States and international trademark and copyright laws. The correct version of this news story can be viewed at https://www.wkrb13.com/2018/11/09/triumph-group-tgi-releases-fy-2019-earnings-guidance.html.
Triumph Group Company Profile
Triumph Group, Inc designs, engineers, manufactures, repairs, overhauls, and distributes aerostructures, aircraft components, accessories, subassemblies, and systems worldwide. The company operates in three segments: Integrated Systems, Aerospace Structures, and Product Support. It offers aircraft and engine-mounted accessory drives, thermal control systems and components, cargo hooks, high lift actuations, cockpit control levers, hydraulic systems and components, landing gear actuation systems, control system valve bodies, landing gear components and assemblies, electronic engine controls, main engine gear box assemblies, exhaust nozzles and ducting, fuel pumps, geared transmissions and drive train components, secondary flight control systems, fuel metering units, and vibration absorbers.
Featured Article: What factors cause inflation to rise?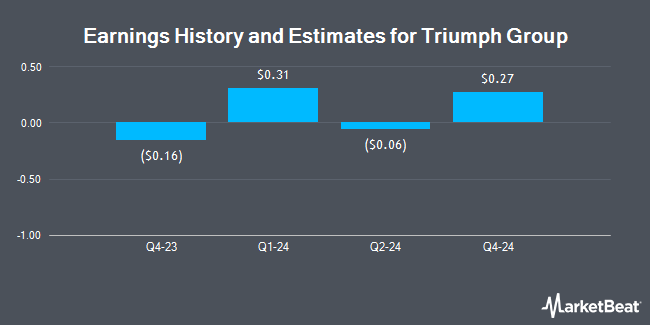 Receive News & Ratings for Triumph Group Daily - Enter your email address below to receive a concise daily summary of the latest news and analysts' ratings for Triumph Group and related companies with MarketBeat.com's FREE daily email newsletter.