Global Eagle Entertainment (NASDAQ:ENT) announced its quarterly earnings data on Thursday. The company reported ($0.47) earnings per share (EPS) for the quarter, missing analysts' consensus estimates of ($0.28) by ($0.19), Fidelity Earnings reports. The firm had revenue of $164.03 million during the quarter, compared to the consensus estimate of $168.65 million. Global Eagle Entertainment had a negative net margin of 42.86% and a negative return on equity of 370.92%.
Global Eagle Entertainment stock remained flat at $$2.73 during mid-day trading on Friday. 606,763 shares of the company's stock were exchanged, compared to its average volume of 96,928. Global Eagle Entertainment has a 1 year low of $0.87 and a 1 year high of $3.22. The firm has a market capitalization of $236.42 million, a price-to-earnings ratio of -1.38 and a beta of 1.67.
ENT has been the topic of a number of recent analyst reports. BidaskClub raised shares of Global Eagle Entertainment from a "sell" rating to a "hold" rating in a research note on Saturday, September 29th. Zacks Investment Research lowered shares of Global Eagle Entertainment from a "buy" rating to a "hold" rating in a research report on Monday, July 23rd. Finally, ValuEngine lowered shares of Global Eagle Entertainment from a "buy" rating to a "hold" rating in a research report on Wednesday, August 8th.
TRADEMARK VIOLATION NOTICE: This piece was originally reported by WKRB News and is the sole property of of WKRB News. If you are accessing this piece on another website, it was copied illegally and reposted in violation of US and international copyright and trademark legislation. The legal version of this piece can be accessed at https://www.wkrb13.com/2018/11/10/global-eagle-entertainment-ent-issues-earnings-results-misses-estimates-by-0-19-eps.html.
About Global Eagle Entertainment
Global Eagle Entertainment Inc provides content, connectivity, and digital media solutions for travel industry worldwide. The company operates through two segments, Media & Content and Connectivity. The Media & Content buys, produces, manages, distributes, and provides post-production services and wholly-owned and licensed media content, video and music programming, advertising, applications, and video games for and to the airline, maritime, and other away from home non-theatrical markets.
Featured Article: Stock Ratings and Recommendations: Understanding Analyst Upgrades and Downgrades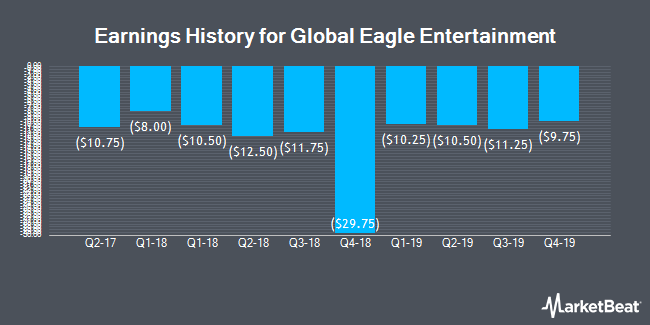 Receive News & Ratings for Global Eagle Entertainment Daily - Enter your email address below to receive a concise daily summary of the latest news and analysts' ratings for Global Eagle Entertainment and related companies with MarketBeat.com's FREE daily email newsletter.