Nice (NASDAQ:NICE) updated its FY 2018 earnings guidance on Thursday. The company provided earnings per share guidance of $4.53-4.69 for the period, compared to the Thomson Reuters consensus earnings per share estimate of $4.56. The company issued revenue guidance of $1.45-1.466 billion, compared to the consensus revenue estimate of $1.45 billion.Nice also updated its FY18 guidance to $4.53-4.69 EPS.
A number of research analysts have recently weighed in on the company. Zacks Investment Research upgraded Nice from a sell rating to a hold rating and set a $124.00 price target for the company in a research report on Wednesday, August 15th. BidaskClub upgraded Nice from a hold rating to a buy rating in a research report on Friday, July 27th. Jefferies Financial Group raised their price target on Nice to $132.00 and gave the company a buy rating in a research report on Thursday, September 20th. They noted that the move was a valuation call. Wedbush assumed coverage on Nice in a research report on Thursday, October 18th. They issued an outperform rating and a $130.00 price target for the company. Finally, JPMorgan Chase & Co. raised their price target on Nice from $104.00 to $110.00 and gave the company a neutral rating in a research report on Friday, August 10th. Seven research analysts have rated the stock with a hold rating, four have assigned a buy rating and one has issued a strong buy rating to the company. The company has an average rating of Buy and a consensus price target of $112.00.
Shares of NICE stock traded down $1.75 during mid-day trading on Friday, reaching $111.40. The stock had a trading volume of 5,996 shares, compared to its average volume of 187,120. Nice has a 12-month low of $82.63 and a 12-month high of $119.83. The stock has a market cap of $6.46 billion, a P/E ratio of 48.02, a P/E/G ratio of 4.08 and a beta of 0.87. The company has a quick ratio of 1.48, a current ratio of 1.48 and a debt-to-equity ratio of 0.24.
Nice (NASDAQ:NICE) last posted its quarterly earnings data on Thursday, August 9th. The technology company reported $0.54 EPS for the quarter, missing analysts' consensus estimates of $0.57 by ($0.03). The company had revenue of $345.41 million for the quarter, compared to analysts' expectations of $342.49 million. Nice had a return on equity of 9.15% and a net margin of 11.73%. On average, sell-side analysts anticipate that Nice will post 2.56 earnings per share for the current year.
ILLEGAL ACTIVITY WARNING: This news story was first published by WKRB News and is the property of of WKRB News. If you are viewing this news story on another website, it was stolen and reposted in violation of United States & international trademark & copyright law. The original version of this news story can be accessed at https://www.wkrb13.com/2018/11/10/nice-nice-updates-fy-2018-earnings-guidance.html.
About Nice
NICE Ltd. provides enterprise software solutions worldwide. It operates in two segments, Customer Engagement and Financial Crime and Compliance. The Customer Engagement segment offers platform and solutions that empower businesses to deliver consistent and personalized experience across the customer journey, and delivered in the cloud, as well as on premise.
See Also: Bear Market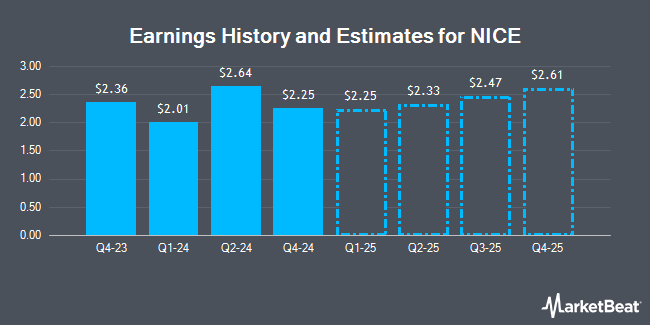 Receive News & Ratings for Nice Daily - Enter your email address below to receive a concise daily summary of the latest news and analysts' ratings for Nice and related companies with MarketBeat.com's FREE daily email newsletter.