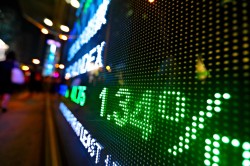 Provention Bio (NASDAQ:PRVB) announced its quarterly earnings results on Thursday. The company reported ($0.17) earnings per share (EPS) for the quarter, Morningstar.com reports.
Shares of PRVB stock traded down $0.02 on Friday, hitting $3.16. The stock had a trading volume of 21,053 shares, compared to its average volume of 51,935. Provention Bio has a twelve month low of $2.52 and a twelve month high of $8.00.
A hedge fund recently bought a new stake in Provention Bio stock. Dean Capital Investments Management LLC purchased a new stake in Provention Bio Inc (NASDAQ:PRVB) in the 3rd quarter, according to the company in its most recent Form 13F filing with the Securities and Exchange Commission. The fund purchased 40,950 shares of the company's stock, valued at approximately $164,000. Dean Capital Investments Management LLC owned 0.12% of Provention Bio as of its most recent SEC filing.
ILLEGAL ACTIVITY WARNING: This story was originally posted by WKRB News and is the sole property of of WKRB News. If you are accessing this story on another publication, it was copied illegally and reposted in violation of United States and international copyright and trademark legislation. The legal version of this story can be accessed at https://www.wkrb13.com/2018/11/10/provention-bio-prvb-posts-quarterly-earnings-results.html.
About Provention Bio
Provention Bio, Inc, a clinical stage biopharmaceutical company, focuses on the development and commercialization of novel therapeutics and cutting-edge solutions to intercept and prevent immune-mediated diseases. Its products candidates include PRV-031 teplizumab and monoclonal antibodies (mAb) that is in Phase III clinical trial for the interception of type one diabetes (T1D); PRV-6527, oral CSF-1R inhibitor, which is in Phase 2a clinical trial for the treatment of Crohn's disease; PRV-300, anti-TLR3 mAb, which is in Phase 1b clinical trial for the treatment of ulcerative colitis; PRV-3279 for the treatment of lupus; and PRV-101, a multivalent coxsackie virus vaccine for the prevention of acute Coxsackie Virus B Vaccine and the prevention of the onset of T1D.
Further Reading: The Discount Rate – What You Need to Know
Receive News & Ratings for Provention Bio Daily - Enter your email address below to receive a concise daily summary of the latest news and analysts' ratings for Provention Bio and related companies with MarketBeat.com's FREE daily email newsletter.