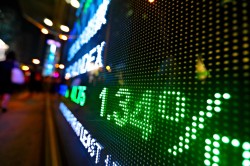 ValuEngine upgraded shares of Tenax Therapeutics (NASDAQ:TENX) from a hold rating to a buy rating in a report published on Wednesday morning.
Shares of TENX stock traded down $0.06 during trading hours on Wednesday, hitting $4.20. 18,799 shares of the company were exchanged, compared to its average volume of 11,986. Tenax Therapeutics has a one year low of $4.00 and a one year high of $12.63.
Tenax Therapeutics (NASDAQ:TENX) last issued its quarterly earnings results on Tuesday, August 14th. The specialty pharmaceutical company reported ($1.29) EPS for the quarter, missing the consensus estimate of ($1.00) by ($0.29). As a group, analysts anticipate that Tenax Therapeutics will post -5.85 EPS for the current year.
An institutional investor recently raised its position in Tenax Therapeutics stock. Renaissance Technologies LLC boosted its holdings in Tenax Therapeutics Inc (NASDAQ:TENX) by 45.8% during the second quarter, according to its most recent Form 13F filing with the Securities & Exchange Commission. The fund owned 83,400 shares of the specialty pharmaceutical company's stock after acquiring an additional 26,200 shares during the period. Renaissance Technologies LLC owned about 5.75% of Tenax Therapeutics worth $526,000 at the end of the most recent quarter. Hedge funds and other institutional investors own 11.90% of the company's stock.
Tenax Therapeutics Company Profile
Tenax Therapeutics, Inc, a specialty pharmaceutical company, focused on the identification, development, and commercialization of a portfolio of products for the critical care market in the United States and Canada. It focuses on the development and commercialization of pharmaceutical products containing levosimendan, 2.5 mg/ml concentrate for solution for infusion/5ml vial for use in the reduction of morbidity and mortality in cardiac surgery patients at risk for developing Low Cardiac Output Syndrome.
Read More: Why do companies engage in swaps?
To view ValuEngine's full report, visit ValuEngine's official website.
Receive News & Ratings for Tenax Therapeutics Daily - Enter your email address below to receive a concise daily summary of the latest news and analysts' ratings for Tenax Therapeutics and related companies with MarketBeat.com's FREE daily email newsletter.