Verastem (NASDAQ:VSTM) announced its earnings results on Thursday. The biopharmaceutical company reported ($0.29) EPS for the quarter, topping the Thomson Reuters' consensus estimate of ($0.43) by $0.14, Zacks reports. The company had revenue of $15.51 million for the quarter.
Shares of NASDAQ:VSTM traded down $0.21 during midday trading on Friday, reaching $5.51. The company's stock had a trading volume of 2,261,783 shares, compared to its average volume of 2,750,680. The company has a debt-to-equity ratio of 0.19, a current ratio of 7.70 and a quick ratio of 7.70. Verastem has a fifty-two week low of $2.77 and a fifty-two week high of $10.35.
Several brokerages have commented on VSTM. Roth Capital set a $14.00 target price on Verastem and gave the stock a "buy" rating in a report on Friday. BidaskClub downgraded Verastem from a "strong-buy" rating to a "buy" rating in a research note on Thursday, July 26th. Raymond James boosted their price objective on Verastem from $7.00 to $12.00 in a research note on Friday, August 10th. BTIG Research initiated coverage on Verastem in a research note on Friday, July 13th. They issued a "buy" rating and a $17.00 price objective on the stock. Finally, Cann reissued a "buy" rating and issued a $16.00 price objective on shares of Verastem in a research note on Thursday, August 9th. One analyst has rated the stock with a hold rating, ten have given a buy rating and one has assigned a strong buy rating to the stock. The stock currently has a consensus rating of "Buy" and a consensus price target of $14.60.
In other news, Director Michael Kauffman bought 4,000 shares of the firm's stock in a transaction that occurred on Friday, September 28th. The stock was acquired at an average cost of $7.49 per share, with a total value of $29,960.00. Following the transaction, the director now directly owns 4,000 shares of the company's stock, valued at approximately $29,960. The purchase was disclosed in a legal filing with the Securities & Exchange Commission, which is available through
this link
. Also, CEO Robert Forrester bought 10,500 shares of the firm's stock in a transaction that occurred on Thursday, September 27th. The stock was purchased at an average cost of $7.00 per share, with a total value of $73,500.00. Following the completion of the transaction, the chief executive officer now directly owns 209,234 shares in the company, valued at $1,464,638. The disclosure for this purchase can be found
here
. Insiders bought a total of 19,500 shares of company stock worth $139,420 over the last three months. 6.51% of the stock is owned by company insiders.
An institutional investor recently raised its position in Verastem stock. Bank of New York Mellon Corp boosted its position in Verastem Inc (NASDAQ:VSTM) by 820.5% in the second quarter, according to its most recent filing with the Securities and Exchange Commission (SEC). The institutional investor owned 352,720 shares of the biopharmaceutical company's stock after buying an additional 314,401 shares during the period. Bank of New York Mellon Corp owned approximately 0.48% of Verastem worth $2,426,000 at the end of the most recent quarter. 43.40% of the stock is currently owned by institutional investors.
COPYRIGHT VIOLATION NOTICE: This news story was first posted by WKRB News and is owned by of WKRB News. If you are reading this news story on another site, it was illegally stolen and reposted in violation of United States and international copyright laws. The legal version of this news story can be read at https://www.wkrb13.com/2018/11/10/verastem-vstm-announces-quarterly-earnings-results.html.
Verastem Company Profile
Verastem, Inc, a biopharmaceutical company, focuses on developing and commercializing drugs for the treatment of cancer. Its programs target the focal adhesion kinase (FAK) and the phosphoinositide 3-kinase (PI3K) signaling pathways. The company's lead FAK inhibitor is defactinib, an orally available candidate for combination therapy with immuno-oncology agents and other anti-cancer compounds.
See Also: Why is the ex-dividend date different from the record date?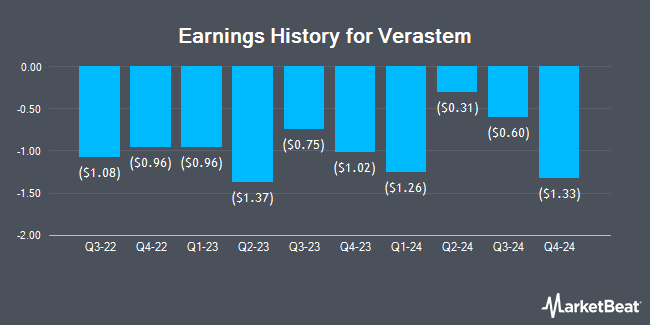 Receive News & Ratings for Verastem Daily - Enter your email address below to receive a concise daily summary of the latest news and analysts' ratings for Verastem and related companies with MarketBeat.com's FREE daily email newsletter.