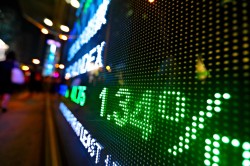 Appliance Recycling Cntrs of Amer Inc (NASDAQ:ARCI) hit a new 52-week low during mid-day trading on Tuesday . The stock traded as low as $0.54 and last traded at $0.62, with a volume of 1300 shares. The stock had previously closed at $0.62.
Appliance Recycling Cntrs of Amer (NASDAQ:ARCI) last released its quarterly earnings data on Tuesday, August 14th. The industrial products company reported ($0.20) EPS for the quarter. The firm had revenue of $8.37 million during the quarter.
In related news, CFO Virland A. Johnson acquired 30,000 shares of the firm's stock in a transaction dated Wednesday, August 29th. The shares were purchased at an average price of $1.00 per share, for a total transaction of $30,000.00. Following the completion of the acquisition, the chief financial officer now owns 260,000 shares in the company, valued at $260,000. The purchase was disclosed in a filing with the SEC, which is available at this link. In the last quarter, insiders bought 60,000 shares of company stock worth $52,350. Company insiders own 10.20% of the company's stock.
WARNING: "Appliance Recycling Cntrs of Amer (ARCI) Reaches New 52-Week Low at $0.54" was originally published by WKRB News and is the property of of WKRB News. If you are viewing this report on another website, it was illegally copied and republished in violation of U.S. and international copyright law. The original version of this report can be accessed at https://www.wkrb13.com/2018/11/13/appliance-recycling-cntrs-of-amer-arci-reaches-new-52-week-low-at-0-54.html.
Appliance Recycling Cntrs of Amer Company Profile (NASDAQ:ARCI)
Appliance Recycling Centers of America, Inc, together with its subsidiaries, engages in the recycle of household appliances in North America. The company operates in two segments, Recycling and Technology. It engages in collecting, recycling, and installing appliances for utilities and other customers.
Featured Article: Understanding Price to Earnings Ratio (PE)
Receive News & Ratings for Appliance Recycling Cntrs of Amer Daily - Enter your email address below to receive a concise daily summary of the latest news and analysts' ratings for Appliance Recycling Cntrs of Amer and related companies with MarketBeat.com's FREE daily email newsletter.