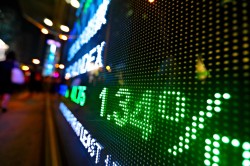 Exfo Inc (TSE:EXF) (NASDAQ:EXFO) insider Germain Lamonde bought 22,800 shares of the stock in a transaction that occurred on Monday, November 12th. The stock was bought at an average cost of C$4.30 per share, for a total transaction of C$98,040.00.
Germain Lamonde also recently made the following trade(s):
On Wednesday, November 7th, Germain Lamonde bought 16,800 shares of Exfo stock. The stock was bought at an average cost of C$3.89 per share, for a total transaction of C$65,352.00.
On Friday, November 9th, Germain Lamonde bought 11,100 shares of Exfo stock. The stock was bought at an average cost of C$3.99 per share, for a total transaction of C$44,289.00.
Shares of TSE EXF opened at C$4.86 on Wednesday. The company has a debt-to-equity ratio of 10.97, a current ratio of 1.38 and a quick ratio of 0.84. Exfo Inc has a twelve month low of C$3.51 and a twelve month high of C$5.87.
Exfo (TSE:EXF) (NASDAQ:EXFO) last announced its quarterly earnings results on Thursday, October 11th. The company reported C$0.25 earnings per share for the quarter, topping analysts' consensus estimates of C$0.11 by C$0.14. The business had revenue of C$90.64 million for the quarter, compared to analyst estimates of C$94.44 million. Equities research analysts expect that Exfo Inc will post 0.330000012043796 earnings per share for the current fiscal year.
ILLEGAL ACTIVITY NOTICE: "Insider Buying: Exfo Inc (EXF) Insider Buys 22,800 Shares of Stock" was reported by WKRB News and is the property of of WKRB News. If you are accessing this piece of content on another publication, it was copied illegally and republished in violation of US & international copyright legislation. The legal version of this piece of content can be accessed at https://www.wkrb13.com/2018/11/14/insider-buying-exfo-inc-exf-insider-buys-22800-shares-of-stock.html.
Exfo Company Profile
EXFO Inc develops, manufactures, and markets smarter network test, monitoring, and analytics solutions for communications service providers, network equipment manufacturers, and Webscale companies. It offers lab and manufacturing testing systems, including lab platforms; network simulation and load testing tools to meet the mobile telecom and VOIP/IMS network test challenges; transport and datacom solutions, such as Ethernet testing, fiber channel testing, DSn/PDH and SONET/SDH testing, synchronization testing, and SONET/SDH, OTN, and multiservice testing solutions; and optical products comprising power meters, light sources and amplifiers, variable attenuators, switch and utility modules, polarization analysis, optical communication analyzers, spectral testing products, bit-error-rate testing products, optical benchtop kits, osics multifunction platform, optical component testers, and tunable filters.
Recommended Story: What Are Treasury Bonds?
Receive News & Ratings for Exfo Daily - Enter your email address below to receive a concise daily summary of the latest news and analysts' ratings for Exfo and related companies with MarketBeat.com's FREE daily email newsletter.