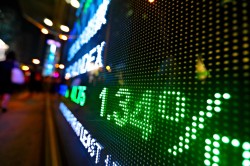 Periscope Capital Inc. lowered its stake in Leisure Acquisition Corp (Usa) (NASDAQ:LACQU) by 33.3% in the 3rd quarter, according to the company in its most recent 13F filing with the Securities & Exchange Commission. The firm owned 201,400 shares of the company's stock after selling 100,700 shares during the quarter. Periscope Capital Inc.'s holdings in Leisure Acquisition were worth $2,064,000 as of its most recent filing with the Securities & Exchange Commission.
Separately, Cowen Inc. lifted its stake in Leisure Acquisition by 1,068.5% during the second quarter. Cowen Inc. now owns 129,700 shares of the company's stock valued at $1,303,000 after purchasing an additional 118,600 shares during the last quarter.
LACQU stock remained flat at $$10.20 on Thursday. 3,900 shares of the company traded hands, compared to its average volume of 52,408. Leisure Acquisition Corp has a fifty-two week low of $9.30 and a fifty-two week high of $10.30.
ILLEGAL ACTIVITY WARNING: This article was first published by WKRB News and is owned by of WKRB News. If you are reading this article on another website, it was illegally stolen and reposted in violation of international trademark & copyright laws. The legal version of this article can be accessed at https://www.wkrb13.com/2018/11/15/periscope-capital-inc-has-2-06-million-holdings-in-leisure-acquisition-corp-usa-lacqu.html.
Leisure Acquisition Company Profile
Leisure Acquisition Corp is a blank check company. The Company is formed for the purpose of effecting a merger, capital stock exchange, asset acquisition, stock purchase, reorganization or similar business combination with one or more businesses. The Company seeks to focus on the location-based leisure sector and leisure-related businesses, which comprises companies providing consumer discretionary goods and services.
See Also: Should You Consider an Index Fund?
Receive News & Ratings for Leisure Acquisition Daily - Enter your email address below to receive a concise daily summary of the latest news and analysts' ratings for Leisure Acquisition and related companies with MarketBeat.com's FREE daily email newsletter.