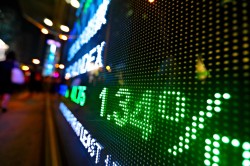 Oconee Federal Financial (NASDAQ:OFED) shares reached a new 52-week low during trading on Thursday . The stock traded as low as $23.25 and last traded at $23.25, with a volume of 5 shares. The stock had previously closed at $24.00.
Separately, ValuEngine downgraded Oconee Federal Financial from a "hold" rating to a "sell" rating in a report on Monday, October 22nd.
The firm has a market cap of $138.29 million, a PE ratio of 47.06 and a beta of -0.07. The company has a debt-to-equity ratio of 0.20, a current ratio of 0.88 and a quick ratio of 0.87.
Oconee Federal Financial (NASDAQ:OFED) last announced its quarterly earnings results on Friday, August 17th. The savings and loans company reported $0.15 earnings per share (EPS) for the quarter. Oconee Federal Financial had a return on equity of 3.57% and a net margin of 16.18%.
The business also recently declared a quarterly dividend, which will be paid on Wednesday, November 21st. Stockholders of record on Thursday, November 8th will be issued a $0.10 dividend. The ex-dividend date of this dividend is Wednesday, November 7th. This represents a $0.40 dividend on an annualized basis and a dividend yield of 1.71%.
An institutional investor recently raised its position in Oconee Federal Financial stock. M3F Inc. grew its stake in Oconee Federal Financial (NASDAQ:OFED) by 33.5% during the third quarter, according to its most recent 13F filing with the Securities and Exchange Commission. The firm owned 19,507 shares of the savings and loans company's stock after acquiring an additional 4,894 shares during the quarter. Oconee Federal Financial comprises about 0.5% of M3F Inc.'s portfolio, making the stock its 29th biggest position. M3F Inc. owned approximately 0.30% of Oconee Federal Financial worth $517,000 as of its most recent filing with the Securities and Exchange Commission. Hedge funds and other institutional investors own 3.35% of the company's stock.
COPYRIGHT VIOLATION NOTICE: This piece was originally published by WKRB News and is owned by of WKRB News. If you are viewing this piece on another website, it was stolen and republished in violation of United States and international trademark and copyright law. The legal version of this piece can be accessed at https://www.wkrb13.com/2018/11/17/oconee-federal-financial-ofed-sets-new-1-year-low-at-23-25.html.
Oconee Federal Financial Company Profile (NASDAQ:OFED)
Oconee Federal Financial Corp. operates as a holding company for Oconee Federal Savings and Loan Association that provides various banking products and services in the Oconee County area of northwestern South Carolina and the northeast area of Georgia. The company's deposit products include demand, NOW, money market, savings, certificates of deposit, and individual retirement accounts.
Further Reading: Cash Flow Analysis in Stock Selection
Receive News & Ratings for Oconee Federal Financial Daily - Enter your email address below to receive a concise daily summary of the latest news and analysts' ratings for Oconee Federal Financial and related companies with MarketBeat.com's FREE daily email newsletter.