Centrica (LON:CNA)'s stock had its "overweight" rating reiterated by equities research analysts at JPMorgan Chase & Co. in a report released on Thursday. They presently have a GBX 190 ($2.48) price target on the integrated energy company's stock, down from their prior price target of GBX 200 ($2.61). JPMorgan Chase & Co.'s target price indicates a potential upside of 47.46% from the company's previous close.
CNA has been the subject of several other reports. Morgan Stanley reiterated an "underweight" rating on shares of Centrica in a report on Tuesday, October 2nd. Deutsche Bank reiterated a "sell" rating on shares of Centrica in a report on Friday, September 7th. Goldman Sachs Group raised shares of Centrica to a "buy" rating and increased their target price for the company from GBX 163 ($2.13) to GBX 176 ($2.30) in a research note on Tuesday, September 18th. Credit Suisse Group reissued an "outperform" rating and set a GBX 180 ($2.35) target price (down from GBX 185 ($2.42)) on shares of Centrica in a research note on Thursday, August 23rd. Finally, Citigroup reissued a "buy" rating and set a GBX 160 ($2.09) target price on shares of Centrica in a research note on Wednesday, August 29th. Three research analysts have rated the stock with a sell rating and eight have assigned a buy rating to the company's stock. Centrica presently has an average rating of "Hold" and an average price target of GBX 160.55 ($2.10).
Centrica stock opened at GBX 128.85 ($1.68) on Thursday. Centrica has a 12-month low of GBX 119.71 ($1.56) and a 12-month high of GBX 221 ($2.89).
In other Centrica news, insider Margherita D. Valle bought 1,323 shares of the business's stock in a transaction that occurred on Thursday, October 25th. The stock was acquired at an average cost of GBX 149 ($1.95) per share, with a total value of £1,971.27 ($2,575.81). Over the last three months, insiders have purchased 4,253 shares of company stock valued at $623,636.
Centrica Company Profile
Centrica plc operates as an integrated energy company in the United Kingdom, the Republic of Ireland, Germany, Norway, rest of Europe, the United States, Canada, and internationally. The company operates through Centrica Consumer, Centrica Business, Exploration & Production, and Centrica Storage segments.
Featured Article: What is Cost of Capital?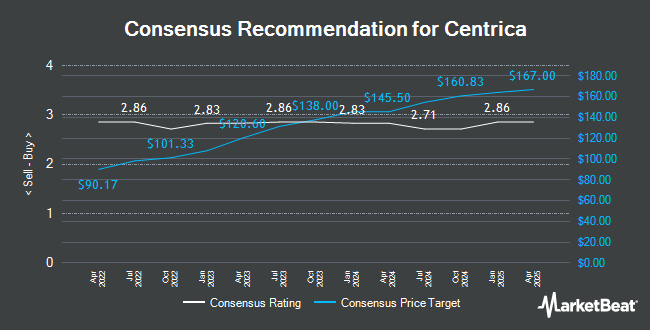 Receive News & Ratings for Centrica Daily - Enter your email address below to receive a concise daily summary of the latest news and analysts' ratings for Centrica and related companies with MarketBeat.com's FREE daily email newsletter.