Kepler Capital Markets restated their buy rating on shares of easyJet (LON:EZJ) in a research report report published on Tuesday morning. They currently have a GBX 1,659 ($21.68) price objective on the stock.
Other equities research analysts also recently issued reports about the company. UBS Group reissued a neutral rating on shares of easyJet in a report on Wednesday, August 15th. Liberum Capital restated a hold rating and issued a GBX 1,800 ($23.52) price target on shares of easyJet in a research note on Monday, August 6th. Credit Suisse Group set a GBX 2,059 ($26.90) price target on easyJet and gave the stock a buy rating in a research note on Thursday, September 6th. Deutsche Bank restated a hold rating and issued a GBX 1,440 ($18.82) price target (down previously from GBX 1,915 ($25.02)) on shares of easyJet in a research note on Wednesday, October 24th. Finally, Berenberg Bank started coverage on easyJet in a research note on Tuesday, September 18th. They issued a sell rating and a GBX 1,310 ($17.12) price target for the company. Two analysts have rated the stock with a sell rating, thirteen have issued a hold rating and twelve have issued a buy rating to the company's stock. The stock presently has a consensus rating of Hold and a consensus price target of GBX 1,594.32 ($20.83).
easyJet stock opened at GBX 1,207 ($15.77) on Tuesday. easyJet has a 12 month low of GBX 977.38 ($12.77) and a 12 month high of GBX 1,698.69 ($22.20).
The company also recently disclosed a dividend, which will be paid on Friday, March 22nd. Investors of record on Thursday, February 28th will be given a dividend of GBX 58.60 ($0.77) per share. This represents a yield of 5.28%. The ex-dividend date is Thursday, February 28th. This is a boost from easyJet's previous dividend of $40.90.
In other news, insider Andrew Findlay acquired 13,000 shares of easyJet stock in a transaction that occurred on Thursday, November 22nd. The stock was bought at an average price of GBX 1,134 ($14.82) per share, for a total transaction of £147,420 ($192,630.34). In the last quarter, insiders have purchased 13,036 shares of company stock valued at $14,788,265.
About easyJet
easyJet plc, together with its subsidiaries, operates as an airline carrier primarily in Europe. As of September 30, 2017, it operated 862 routes and a fleet of 279 aircraft. The company also engages in the trading and leasing of aircrafts; and the provision of graphic design services. easyJet plc was founded in 1995 and is based in Luton, the United Kingdom.
See Also: Intrinsic Value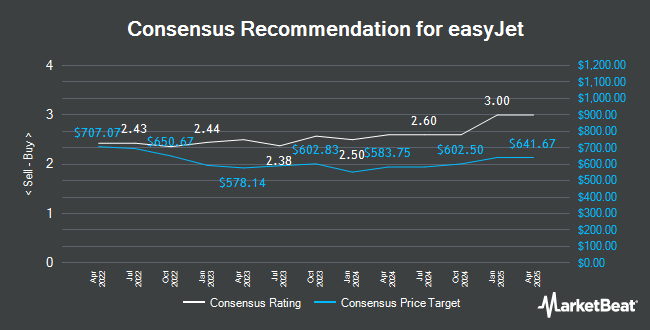 Receive News & Ratings for easyJet Daily - Enter your email address below to receive a concise daily summary of the latest news and analysts' ratings for easyJet and related companies with MarketBeat.com's FREE daily email newsletter.