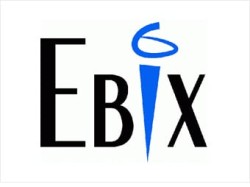 Ebix Inc (NASDAQ:EBIX) declared a dividend on Friday, November 23rd, Fidelity reports. Investors of record on Friday, November 30th will be paid a dividend of 0.075 per share by the technology company on Friday, December 14th. The ex-dividend date of this dividend is Thursday, November 29th.
Ebix has a dividend payout ratio of 7.7% indicating that its dividend is sufficiently covered by earnings. Equities research analysts expect Ebix to earn $4.41 per share next year, which means the company should continue to be able to cover its $0.30 annual dividend with an expected future payout ratio of 6.8%.
NASDAQ:EBIX traded up $0.14 during trading hours on Friday, hitting $48.74. The company had a trading volume of 99,603 shares, compared to its average volume of 227,567. The stock has a market cap of $1.52 billion, a P/E ratio of 15.38 and a beta of 1.64. Ebix has a 52 week low of $47.84 and a 52 week high of $89.10. The company has a quick ratio of 1.56, a current ratio of 1.56 and a debt-to-equity ratio of 1.16.
Ebix shares are going to split on Friday, December 14th. The 5-1 split was announced on Thursday, September 20th. The newly created shares will be payable to shareholders after the market closes on Thursday, December 13th.
Ebix (NASDAQ:EBIX) last released its quarterly earnings results on Thursday, November 8th. The technology company reported $0.92 earnings per share for the quarter, missing the consensus estimate of $0.95 by ($0.03). The company had revenue of $128.64 million during the quarter, compared to the consensus estimate of $128.63 million. Ebix had a net margin of 23.85% and a return on equity of 20.55%. The company's quarterly revenue was up 38.6% compared to the same quarter last year. On average, analysts expect that Ebix will post 3.6 EPS for the current fiscal year.
Several research firms recently weighed in on EBIX. BidaskClub cut shares of Ebix from a "sell" rating to a "strong sell" rating in a report on Thursday, November 8th. Maxim Group set a $113.00 price target on shares of Ebix and gave the company a "buy" rating in a report on Thursday, November 8th. ValuEngine cut shares of Ebix from a "buy" rating to a "hold" rating in a report on Wednesday, October 3rd. Finally, BMO Capital Markets began coverage on shares of Ebix in a report on Wednesday, September 26th. They issued a "market perform" rating and a $85.00 price target on the stock. One research analyst has rated the stock with a sell rating, three have issued a hold rating and three have assigned a buy rating to the stock. The stock presently has an average rating of "Hold" and a consensus target price of $97.00.
In other news, major shareholder Fondation Rennes sold 12,800 shares of the business's stock in a transaction on Wednesday, October 3rd. The shares were sold at an average price of $77.20, for a total transaction of $988,160.00. Following the sale, the insider now owns 3,425,981 shares in the company, valued at approximately $264,485,733.20. The sale was disclosed in a document filed with the SEC, which is accessible through this link. Also, CEO Robin Raina bought 1,000 shares of the company's stock in a transaction dated Monday, November 12th. The shares were acquired at an average price of $52.45 per share, for a total transaction of $52,450.00. Following the acquisition, the chief executive officer now owns 3,599,960 shares in the company, valued at approximately $188,817,902. The disclosure for this purchase can be found here. Insiders own 13.50% of the company's stock.
ILLEGAL ACTIVITY WARNING: "Ebix Inc to Issue Dividend of $0.08 (EBIX)" was originally reported by WKRB News and is the property of of WKRB News. If you are reading this piece on another domain, it was illegally stolen and republished in violation of US and international copyright legislation. The original version of this piece can be accessed at https://www.wkrb13.com/2018/11/24/ebix-inc-to-issue-dividend-of-0-08-ebix.html.
Ebix Company Profile
Ebix, Inc provides software and e-commerce solutions to insurance, finance, and healthcare industries. It offers software development, customization, and consulting services to various entities in the insurance industry, including carriers, brokers, exchanges, and standard making bodies. The company operates data exchanges in the areas of life insurance, annuities, employee health benefits, risk management, workers compensation, insurance underwriting, and property and casualty (P&C) insurance.
Featured Article: What does relative strength index mean?

Receive News & Ratings for Ebix Daily - Enter your email address below to receive a concise daily summary of the latest news and analysts' ratings for Ebix and related companies with MarketBeat.com's FREE daily email newsletter.