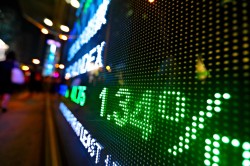 Summit State Bank (NASDAQ:SSBI) shares hit a new 52-week low during trading on Thursday . The stock traded as low as $11.91 and last traded at $12.03, with a volume of 3357 shares traded. The stock had previously closed at $11.98.
The firm has a market capitalization of $71.35 million, a P/E ratio of 13.22 and a beta of 0.52.
The company also recently announced a quarterly dividend, which will be paid on Tuesday, November 27th. Shareholders of record on Tuesday, November 20th will be issued a $0.12 dividend. This represents a $0.48 annualized dividend and a dividend yield of 3.89%. The ex-dividend date of this dividend is Monday, November 19th.
An institutional investor recently raised its position in Summit State Bank stock. Dimensional Fund Advisors LP grew its position in Summit State Bank (NASDAQ:SSBI) by 9.7% in the 2nd quarter, according to the company in its most recent Form 13F filing with the Securities and Exchange Commission (SEC). The firm owned 56,378 shares of the bank's stock after buying an additional 4,987 shares during the quarter. Dimensional Fund Advisors LP owned approximately 0.95% of Summit State Bank worth $871,000 at the end of the most recent quarter. Institutional investors own 13.76% of the company's stock.
COPYRIGHT VIOLATION NOTICE: This report was posted by WKRB News and is the sole property of of WKRB News. If you are accessing this report on another website, it was illegally stolen and republished in violation of international copyright laws. The correct version of this report can be read at https://www.wkrb13.com/2018/11/24/summit-state-bank-ssbi-hits-new-1-year-low-at-11-91.html.
Summit State Bank Company Profile (NASDAQ:SSBI)
Summit State Bank provides various banking products services to individuals, small-to medium-sized businesses, professionals and professional associations, entrepreneurs, high net worth families, foundations, and estates primarily in Sonoma County, California. It offers personal and business checking, money market, sweep, savings, and demand accounts; time certificates of deposit; and specialized deposit accounts, such as professional, small business packaged, tiered, and Keogh and individual retirement accounts.
Featured Article: Trading Penny Stocks

Receive News & Ratings for Summit State Bank Daily - Enter your email address below to receive a concise daily summary of the latest news and analysts' ratings for Summit State Bank and related companies with MarketBeat.com's FREE daily email newsletter.