US Bancorp DE grew its stake in shares of Delek US Holdings Inc (NYSE:DK) by 15.8% in the 3rd quarter, HoldingsChannel reports. The fund owned 17,708 shares of the oil and gas company's stock after acquiring an additional 2,414 shares during the period. US Bancorp DE's holdings in Delek US were worth $751,000 as of its most recent SEC filing.
Several other large investors also recently modified their holdings of the company. Point72 Hong Kong Ltd bought a new stake in Delek US in the 2nd quarter worth about $105,000. Envestnet Asset Management Inc. increased its holdings in Delek US by 1,712.4% in the 2nd quarter. Envestnet Asset Management Inc. now owns 2,338 shares of the oil and gas company's stock worth $117,000 after buying an additional 2,209 shares in the last quarter. Mount Yale Investment Advisors LLC bought a new stake in Delek US in the 2nd quarter worth about $162,000. Whittier Trust Co. of Nevada Inc. bought a new stake in Delek US in the 2nd quarter worth about $183,000. Finally, Hartford Investment Management Co. bought a new stake in Delek US in the 2nd quarter worth about $214,000.
In other news, Director David Wiessman sold 60,000 shares of Delek US stock in a transaction dated Monday, August 27th. The stock was sold at an average price of $54.10, for a total transaction of $3,246,000.00. The transaction was disclosed in a legal filing with the SEC, which can be accessed through this hyperlink. 1.40% of the stock is owned by insiders.
Shares of
NYSE:DK
opened at $36.58 on Friday. The stock has a market capitalization of $3.10 billion, a price-to-earnings ratio of 9.74, a PEG ratio of 0.90 and a beta of 1.37. The company has a debt-to-equity ratio of 0.96, a quick ratio of 0.97 and a current ratio of 1.43. Delek US Holdings Inc has a 52-week low of $29.92 and a 52-week high of $61.57.
Delek US (NYSE:DK) last announced its earnings results on Tuesday, November 6th. The oil and gas company reported $2.02 earnings per share (EPS) for the quarter, missing the consensus estimate of $2.08 by ($0.06). The firm had revenue of $2.50 billion during the quarter, compared to analysts' expectations of $2.96 billion. Delek US had a return on equity of 17.94% and a net margin of 4.40%. As a group, equities analysts anticipate that Delek US Holdings Inc will post 4.18 EPS for the current year.
The business also recently disclosed a quarterly dividend, which will be paid on Tuesday, December 4th. Stockholders of record on Tuesday, November 20th will be given a dividend of $0.26 per share. This is a boost from Delek US's previous quarterly dividend of $0.25. This represents a $1.04 dividend on an annualized basis and a dividend yield of 2.84%. The ex-dividend date is Monday, November 19th. Delek US's payout ratio is presently 82.54%.
Several equities research analysts recently commented on the company. ValuEngine upgraded Delek US from a "hold" rating to a "buy" rating in a report on Tuesday, September 4th. TheStreet upgraded Delek US from a "c+" rating to a "b" rating in a report on Wednesday, August 8th. Zacks Investment Research downgraded Delek US from a "buy" rating to a "hold" rating in a report on Monday, August 6th. Mizuho began coverage on Delek US in a research report on Thursday, August 2nd. They issued a "buy" rating and a $60.00 target price on the stock. Finally, Raymond James dropped their target price on Delek US from $70.00 to $60.00 and set a "strong-buy" rating on the stock in a research report on Monday, September 24th. One analyst has rated the stock with a sell rating, three have given a hold rating, ten have assigned a buy rating and two have assigned a strong buy rating to the stock. Delek US currently has a consensus rating of "Buy" and an average price target of $52.14.
COPYRIGHT VIOLATION NOTICE: "US Bancorp DE Has $751,000 Stake in Delek US Holdings Inc (DK)" was originally published by WKRB News and is the property of of WKRB News. If you are viewing this news story on another site, it was illegally copied and republished in violation of US & international copyright and trademark laws. The original version of this news story can be viewed at https://www.wkrb13.com/2018/11/24/us-bancorp-de-has-751000-stake-in-delek-us-holdings-inc-dk.html.
Delek US Company Profile
Delek US Holdings, Inc engages in the integrated downstream energy business in the United States. The company's Refining segment processes crude oil and other purchased feedstocks for the manufacture of various grades of gasoline, diesel fuel, aviation fuel, asphalt, and other petroleum-based products that are distributed through owned and third-party product terminals.
Featured Story: Cost of Debt
Want to see what other hedge funds are holding DK? Visit HoldingsChannel.com to get the latest 13F filings and insider trades for Delek US Holdings Inc (NYSE:DK).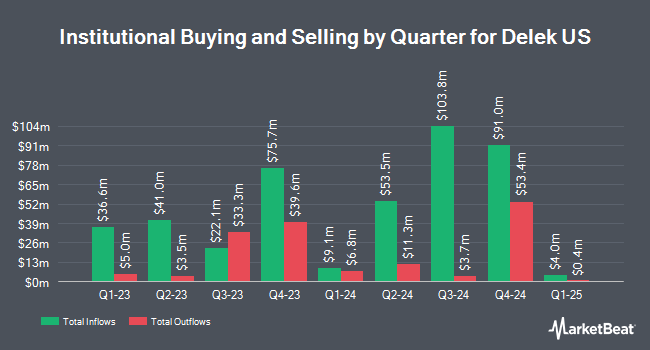 Receive News & Ratings for Delek US Daily - Enter your email address below to receive a concise daily summary of the latest news and analysts' ratings for Delek US and related companies with MarketBeat.com's FREE daily email newsletter.