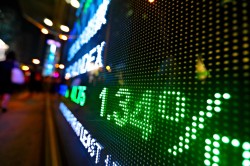 LAIX (NASDAQ:LAIX) is set to announce its earnings results before the market opens on Tuesday, November 27th.
NASDAQ:LAIX opened at $7.86 on Monday. LAIX has a 52-week low of $7.58 and a 52-week high of $16.50.
Several analysts have issued reports on LAIX shares. Goldman Sachs Group started coverage on LAIX in a report on Monday, October 22nd. They set a "buy" rating and a $19.00 price target for the company. Morgan Stanley assumed coverage on LAIX in a research note on Monday, October 22nd. They issued an "equal weight" rating for the company.
An institutional investor recently bought a new position in LAIX stock. JPMorgan Chase & Co. acquired a new position in LAIX Inc. (NASDAQ:LAIX) in the third quarter, according to the company in its most recent disclosure with the Securities & Exchange Commission. The institutional investor acquired 18,700 shares of the company's stock, valued at approximately $235,000.
TRADEMARK VIOLATION WARNING: "LAIX (LAIX) Set to Announce Quarterly Earnings on Tuesday" was originally reported by WKRB News and is the property of of WKRB News. If you are reading this news story on another site, it was illegally stolen and republished in violation of United States and international trademark and copyright legislation. The original version of this news story can be read at https://www.wkrb13.com/2018/11/26/laix-laix-set-to-announce-quarterly-earnings-on-tuesday.html.
LAIX Company Profile
LAIX Inc, an artificial intelligence company, provides online English learning services through Liulishuo mobile app in the People's Republic of China. It is also involved in the artificial intelligence lab operation; technology development; and loan arrangement activities. The company was formerly known as LingoChamp Inc LAIX Inc was founded in 2013 and is headquartered in Shanghai, the People's Republic of China.
Featured Story: How to Invest in Growth Stocks
Receive News & Ratings for LAIX Daily - Enter your email address below to receive a concise daily summary of the latest news and analysts' ratings for LAIX and related companies with MarketBeat.com's FREE daily email newsletter.