Medley Management Inc (NYSE:MDLY) announced a quarterly dividend on Wednesday, November 7th, NASDAQ reports. Shareholders of record on Wednesday, November 28th will be given a dividend of 0.20 per share by the asset manager on Wednesday, December 12th. This represents a $0.80 dividend on an annualized basis and a yield of 14.29%. The ex-dividend date is Tuesday, November 27th.
MDLY opened at $5.60 on Monday. Medley Management has a fifty-two week low of $3.10 and a fifty-two week high of $7.15. The firm has a market cap of $31.18 million, a price-to-earnings ratio of 35.00 and a beta of 1.30.
Medley Management (NYSE:MDLY) last posted its quarterly earnings results on Wednesday, November 14th. The asset manager reported $0.06 earnings per share for the quarter, missing the Zacks' consensus estimate of $0.08 by ($0.02). Medley Management had a negative return on equity of 7.40% and a negative net margin of 3.75%. The business had revenue of $14.40 million for the quarter.
In other Medley Management news, major shareholder Jacobs Asset Management, Llc acquired 49,900 shares of the business's stock in a transaction on Friday, October 19th. The shares were acquired at an average price of $5.20 per share, with a total value of $259,480.00. The acquisition was disclosed in a legal filing with the Securities & Exchange Commission, which is available at
this hyperlink
. In the last ninety days, insiders have purchased 71,441 shares of company stock worth $375,894. 5.06% of the stock is owned by insiders.
A number of equities research analysts have weighed in on MDLY shares. Credit Suisse Group lifted their price target on shares of Medley Management from $3.80 to $6.00 and gave the stock a "neutral" rating in a research note on Tuesday, August 14th. Compass Point set a $6.00 target price on shares of Medley Management and gave the company a "hold" rating in a research note on Sunday, August 12th. Finally, ValuEngine downgraded shares of Medley Management from a "hold" rating to a "sell" rating in a research note on Friday, August 3rd.
ILLEGAL ACTIVITY WARNING: "Medley Management Inc Declares Quarterly Dividend of $0.20 (MDLY)" was first published by WKRB News and is the sole property of of WKRB News. If you are reading this piece on another website, it was illegally stolen and reposted in violation of US & international copyright & trademark laws. The correct version of this piece can be read at https://www.wkrb13.com/2018/11/26/medley-management-inc-declares-quarterly-dividend-of-0-20-mdly.html.
About Medley Management
Medley Management Inc is an investment holding company and operate and control all of the business and affairs of Medley LLC and its subsidiaries. Medley Management Inc was incorporated on June 13, 2014 and is based in New York, New York.
Further Reading: How is the S&P 500 index different from the DJIA?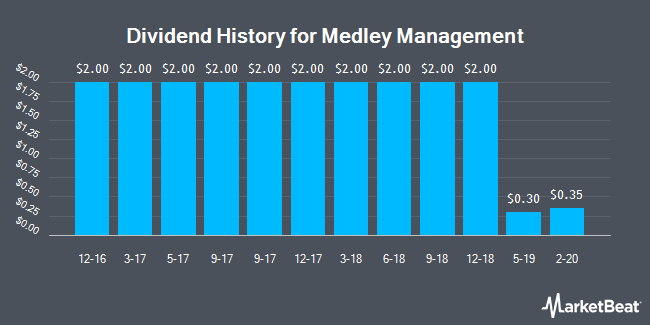 Receive News & Ratings for Medley Management Daily - Enter your email address below to receive a concise daily summary of the latest news and analysts' ratings for Medley Management and related companies with MarketBeat.com's FREE daily email newsletter.