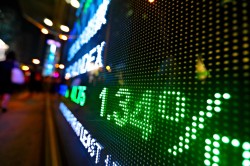 James Cropper PLC (LON:CRPR) insider Mark A. J. Cropper purchased 29,440 shares of the firm's stock in a transaction on Wednesday, December 5th. The shares were acquired at an average price of GBX 1,070 ($13.98) per share, for a total transaction of £315,008 ($411,613.75).
CRPR opened at GBX 1,040 ($13.59) on Friday. James Cropper PLC has a fifty-two week low of GBX 1,290 ($16.86) and a fifty-two week high of GBX 1,975 ($25.81).
James Cropper (LON:CRPR) last posted its quarterly earnings results on Tuesday, November 13th. The company reported GBX 12.90 ($0.17) earnings per share for the quarter.
The firm also recently declared a dividend, which will be paid on Friday, January 11th. Shareholders of record on Thursday, November 29th will be paid a dividend of GBX 2.50 ($0.03) per share. The ex-dividend date of this dividend is Thursday, November 29th. This represents a yield of 0.21%.
Separately, Canaccord Genuity reiterated a "buy" rating and set a GBX 1,700 ($22.21) price target on shares of James Cropper in a research note on Wednesday, September 19th.
WARNING: "James Cropper PLC (CRPR) Insider Mark A. J. Cropper Acquires 29,440 Shares of Stock" was reported by WKRB News and is the property of of WKRB News. If you are accessing this piece on another website, it was illegally copied and republished in violation of U.S. and international trademark & copyright law. The legal version of this piece can be read at https://www.wkrb13.com/2018/12/07/james-cropper-plc-crpr-insider-mark-a-j-cropper-acquires-29440-shares-of-stock.html.
James Cropper Company Profile
James Cropper PLC manufactures and sells specialist papers and advanced materials. It operates through James Cropper Paper Products, James Cropper 3D Products, and Technical Fibre Products segments. The company offers specialist papers and boards for packaging and digital imaging industries; and molded fiber products, as well as converts paper.
Recommended Story: Consumer Price Index (CPI)
Receive News & Ratings for James Cropper Daily - Enter your email address below to receive a concise daily summary of the latest news and analysts' ratings for James Cropper and related companies with MarketBeat.com's FREE daily email newsletter.