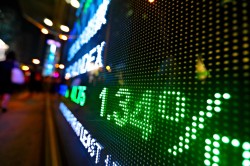 JPMorgan Chase & Co. lowered shares of LT SA/ADR (OTCMKTS:LGSXY) from an overweight rating to a neutral rating in a research note released on Tuesday, The Fly reports.
LGSXY opened at $3.98 on Tuesday.
About LT SA/ADR
Light SA, through its subsidiaries, engages in the generation, transmission, distribution, and sale of electric power in Brazil. The company generates power through solar, wind, and hydro power plants. It operates in 31 cities of the state of Rio de Janeiro covering a population of approximately 11 million customers.
Read More: SEC Filing

Receive News & Ratings for LT SA/ADR Daily - Enter your email address below to receive a concise daily summary of the latest news and analysts' ratings for LT SA/ADR and related companies with MarketBeat.com's FREE daily email newsletter.