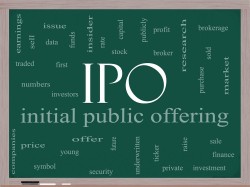 Mercantil Bank Holding (AMTB) is planning to raise $192 million in an initial public offering (IPO) on Tuesday, December 11th, IPO Scoop reports. The company will issue 11,000,000 shares at $16.50-$18.50 per share.
In the last twelve months, Mercantil Bank Holding generated $217.1 million in revenue and $40.2 million in net income. Mercantil Bank Holding has a market-cap of $972.5 million.
Raymond James, Keefe, Bruyette & Woods (A Stifel Company) and Stephens served as the underwriters for the IPO and SunTrust Robinson Humphrey and FIG Partners were co-managers.
Mercantil Bank Holding provided the following description of their company for its IPO: "(Note: "Our Class A common stock and our Class B common stock are listed on the Nasdaq Global Select Market under the trading symbols "AMTB" and "AMTBB," respectively. On November 23, 2018, the last reported sales price of our Class A common stock was $15.27 per share.") We are a bank holding company headquartered in Coral Gables, Florida, with $8.5 billion in assets, $6.2 billion in loans, $6.4 billion in deposits, $719.4 million of shareholders' equity and $1.7 billion in assets under management and custody as of June 30, 2018. We provide individuals and businesses a comprehensive array of deposit, credit, investment, wealth management, retail banking and fiduciary services. We serve customers in our U.S. markets and select international customers. These services are offered through the Bank, which is also headquartered in Coral Gables, Florida, and its subsidiaries. Fiduciary, investment and wealth management services are provided by the Trust Company and Investment Services. ".
Mercantil Bank Holding was founded in 1979 and has 948 employees. The company is located at 220 Alhambra Circle, Coral Gables, FL 33134, US and can be reached via phone at (305) 460-8728 or on the web at https://www.mercantilbank.com.
Receive News & Ratings for Mercantil Bank Holding Daily - Enter your email address below to receive a concise daily summary of the latest news and analysts' ratings for Mercantil Bank Holding and related companies with MarketBeat.com's FREE daily email newsletter.