Analysts forecast that Tailored Brands Inc (NYSE:TLRD) will announce $829.09 million in sales for the current quarter, according to Zacks. Two analysts have issued estimates for Tailored Brands' earnings, with the lowest sales estimate coming in at $818.00 million and the highest estimate coming in at $840.17 million. Tailored Brands posted sales of $810.82 million in the same quarter last year, which suggests a positive year over year growth rate of 2.3%. The firm is scheduled to announce its next earnings results after the market closes on Wednesday, December 12th.
According to Zacks, analysts expect that Tailored Brands will report full year sales of $3.30 billion for the current fiscal year. For the next financial year, analysts expect that the business will report sales of $3.36 billion, with estimates ranging from $3.34 billion to $3.38 billion. Zacks Investment Research's sales calculations are an average based on a survey of analysts that follow Tailored Brands.
Tailored Brands (NYSE:TLRD) last issued its quarterly earnings data on Wednesday, September 12th. The company reported $1.07 EPS for the quarter, hitting the consensus estimate of $1.07. Tailored Brands had a net margin of 3.01% and a negative return on equity of 933.71%. The firm had revenue of $823.00 million for the quarter, compared to analyst estimates of $828.36 million. During the same period in the prior year, the business posted $0.99 EPS. The business's revenue for the quarter was down 3.3% compared to the same quarter last year.
Several equities analysts have recently commented on TLRD shares.
ValuEngine
lowered shares of Tailored Brands from a "hold" rating to a "sell" rating in a report on Tuesday, October 2nd.
Zacks Investment Research
upgraded shares of Tailored Brands from a "sell" rating to a "buy" rating and set a $25.00 price objective on the stock in a report on Saturday, September 1st. Finally, Deutsche Bank upped their price objective on shares of Tailored Brands from $28.00 to $29.00 and gave the stock a "hold" rating in a report on Wednesday, August 29th.
Shares of TLRD stock traded up $0.03 during trading hours on Monday, hitting $23.05. The company had a trading volume of 2,115,100 shares, compared to its average volume of 1,338,966. The company has a debt-to-equity ratio of 120,737.00, a quick ratio of 0.46 and a current ratio of 2.12. Tailored Brands has a fifty-two week low of $18.90 and a fifty-two week high of $35.94. The firm has a market cap of $1.15 billion, a P/E ratio of 10.48, a P/E/G ratio of 0.58 and a beta of 1.63.
The firm also recently announced a quarterly dividend, which will be paid on Friday, December 28th. Shareholders of record on Tuesday, December 18th will be issued a dividend of $0.18 per share. The ex-dividend date of this dividend is Monday, December 17th. This represents a $0.72 dividend on an annualized basis and a yield of 3.12%. Tailored Brands's dividend payout ratio (DPR) is presently 32.73%.
In other Tailored Brands news, Director David H. Edwab sold 15,000 shares of the stock in a transaction that occurred on Monday, September 17th. The shares were sold at an average price of $25.54, for a total transaction of $383,100.00. Following the sale, the director now directly owns 36,217 shares in the company, valued at approximately $924,982.18. The transaction was disclosed in a document filed with the SEC, which is available through this link. 2.40% of the stock is owned by corporate insiders.
Institutional investors have recently added to or reduced their stakes in the business. Tower Research Capital LLC TRC lifted its holdings in Tailored Brands by 308.3% during the 3rd quarter. Tower Research Capital LLC TRC now owns 4,651 shares of the company's stock worth $117,000 after buying an additional 3,512 shares in the last quarter. Caption Management LLC acquired a new stake in Tailored Brands during the 2nd quarter worth approximately $128,000. Zacks Investment Management acquired a new stake in Tailored Brands during the 2nd quarter worth approximately $206,000. Amalgamated Bank acquired a new stake in Tailored Brands during the 2nd quarter worth approximately $207,000. Finally, USA Financial Portformulas Corp acquired a new stake in Tailored Brands during the 3rd quarter worth approximately $208,000.
Tailored Brands Company Profile
Tailored Brands, Inc operates as a specialty apparel retailer the United States, Puerto Rico, and Canada. It operates through two segments, Retail and Corporate Apparel. The Retail segment offers suits, suit separates, sport coats, slacks, formalwear, business casual, denim, sportswear, outerwear, dress shirts, shoes, and accessories for men.
Featured Article: Asset Allocation, Balancing Your Investments
Get a free copy of the Zacks research report on Tailored Brands (TLRD)
For more information about research offerings from Zacks Investment Research, visit Zacks.com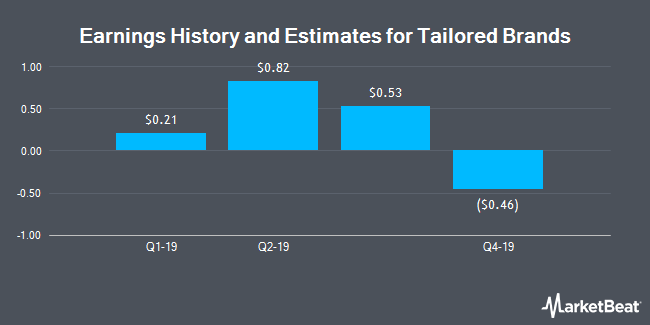 Receive News & Ratings for Tailored Brands Daily - Enter your email address below to receive a concise daily summary of the latest news and analysts' ratings for Tailored Brands and related companies with MarketBeat.com's FREE daily email newsletter.