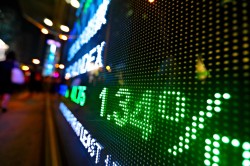 Shineco Inc (NASDAQ:TYHT) hit a new 52-week low during mid-day trading on Thursday . The stock traded as low as $0.62 and last traded at $0.61, with a volume of 35770 shares changing hands. The stock had previously closed at $0.67.
The stock has a market capitalization of $14.65 million, a price-to-earnings ratio of 1.60 and a beta of 1.11.
Shineco (NASDAQ:TYHT) last posted its quarterly earnings data on Monday, October 15th. The company reported ($0.01) earnings per share for the quarter. The firm had revenue of $8.62 million for the quarter. Shineco had a return on equity of 11.76% and a net margin of 15.95%.
A hedge fund recently raised its stake in Shineco stock. Renaissance Technologies LLC grew its position in shares of Shineco Inc (NASDAQ:TYHT) by 249.4% during the 2nd quarter, according to its most recent filing with the Securities and Exchange Commission (SEC). The firm owned 85,265 shares of the company's stock after buying an additional 60,865 shares during the period. Renaissance Technologies LLC owned approximately 0.40% of Shineco worth $143,000 at the end of the most recent quarter. 1.62% of the stock is owned by institutional investors and hedge funds.
COPYRIGHT VIOLATION NOTICE: This story was posted by WKRB News and is the property of of WKRB News. If you are reading this story on another website, it was illegally copied and republished in violation of US and international copyright and trademark laws. The original version of this story can be accessed at https://www.wkrb13.com/2018/12/08/shineco-tyht-reaches-new-1-year-low-at-0-62.html.
About Shineco (NASDAQ:TYHT)
Shineco, Inc, a holding company, through its subsidiaries, produces, distributes, and sells health and well-being focused plant-based products in China. It processes and distributes traditional Chinese herbal medicine products, as well as other pharmaceutical products directly to individual customers.
Recommended Story: S&P 500 Index
Receive News & Ratings for Shineco Daily - Enter your email address below to receive a concise daily summary of the latest news and analysts' ratings for Shineco and related companies with MarketBeat.com's FREE daily email newsletter.