Powell Industries (NASDAQ:POWL) issued its quarterly earnings results on Tuesday. The industrial products company reported $0.13 earnings per share for the quarter, missing the consensus estimate of $0.15 by ($0.02), Bloomberg Earnings reports. The company had revenue of $134.90 million during the quarter, compared to analyst estimates of $128.90 million. Powell Industries had a negative net margin of 1.59% and a negative return on equity of 2.13%. The company's quarterly revenue was up 42.0% on a year-over-year basis. During the same period in the previous year, the company posted ($0.42) EPS.
POWL stock opened at $25.75 on Thursday. Powell Industries has a twelve month low of $25.02 and a twelve month high of $41.42.
The company also recently disclosed a quarterly dividend, which will be paid on Wednesday, December 19th. Shareholders of record on Wednesday, November 21st will be paid a $0.26 dividend. The ex-dividend date is Tuesday, November 20th. This represents a $1.04 dividend on an annualized basis and a yield of 4.04%.
Several equities research analysts have recently weighed in on the company. Sidoti decreased their price target on Powell Industries from $45.00 to $38.00 and set a "buy" rating for the company in a research note on Wednesday. BidaskClub cut Powell Industries from a "sell" rating to a "strong sell" rating in a research note on Tuesday, September 25th.
Several hedge funds have recently bought and sold shares of POWL. Nisa Investment Advisors LLC lifted its holdings in shares of Powell Industries by 190.0% in the third quarter. Nisa Investment Advisors LLC now owns 2,900 shares of the industrial products company's stock valued at $105,000 after purchasing an additional 1,900 shares in the last quarter. Acadian Asset Management LLC bought a new stake in Powell Industries during the third quarter worth $122,000. SG Americas Securities LLC bought a new stake in Powell Industries during the second quarter worth $143,000. RBF Capital LLC bought a new stake in Powell Industries during the third quarter worth $232,000. Finally, MetLife Investment Advisors LLC lifted its holdings in Powell Industries by 57.2% during the third quarter. MetLife Investment Advisors LLC now owns 6,925 shares of the industrial products company's stock worth $251,000 after acquiring an additional 2,521 shares during the period. Institutional investors own 65.27% of the company's stock.
COPYRIGHT VIOLATION WARNING: "Powell Industries (POWL) Posts Quarterly Earnings Results, Misses Expectations By $0.02 EPS" was first reported by WKRB News and is owned by of WKRB News. If you are reading this piece on another website, it was illegally stolen and reposted in violation of United States & international copyright & trademark legislation. The original version of this piece can be read at https://www.wkrb13.com/2018/12/13/powell-industries-powl-posts-quarterly-earnings-results-misses-expectations-by-0-02-eps.html.
Powell Industries Company Profile
Powell Industries, Inc, together with its subsidiaries, designs, develops, manufactures, sells, and services custom-engineered equipment and systems for the distribution, control, and monitoring of electrical energy. The company's principal products include integrated power control room substations, custom-engineered modules, electrical houses, medium-voltage circuit breakers, monitoring and control communications systems, motor control centers, and bus duct systems, as well as traditional and arc-resistant distribution switchgears and control gears.
See Also: What are the reasons investors use put options?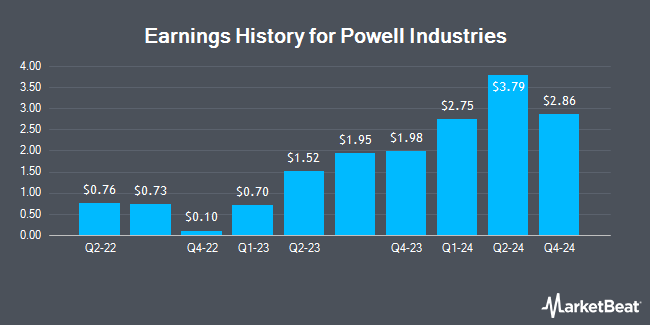 Receive News & Ratings for Powell Industries Daily - Enter your email address below to receive a concise daily summary of the latest news and analysts' ratings for Powell Industries and related companies with MarketBeat.com's FREE daily email newsletter.