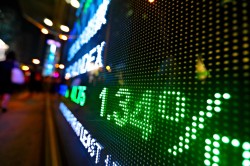 Resona (OTCMKTS:RSNHF) was upgraded by Deutsche Bank from a "hold" rating to a "buy" rating in a report issued on Friday, The Fly reports.
Shares of OTCMKTS RSNHF opened at $5.01 on Friday.
Resona Company Profile
Resona Holdings, Inc, through its subsidiaries, provides banking products and services in Japan, Asia, the United States, and internationally. The company offers banking and trust banking, credit guarantee, collection of bills and receivables, factoring, and credit card administration and guarantee facilities.
Recommended Story: What is a Reverse Stock Split?

Receive News & Ratings for Resona Daily - Enter your email address below to receive a concise daily summary of the latest news and analysts' ratings for Resona and related companies with MarketBeat.com's FREE daily email newsletter.