Kinross Gold Co. (TSE:K) (NYSE:KGC) – Research analysts at Desjardins upped their FY2018 EPS estimates for shares of Kinross Gold in a research report issued on Monday, January 7th. Desjardins analyst J. Wolfson now expects that the company will post earnings per share of $0.09 for the year, up from their previous estimate of $0.08. Desjardins also issued estimates for Kinross Gold's Q1 2019 earnings at $0.04 EPS, Q3 2019 earnings at $0.05 EPS, Q4 2019 earnings at $0.05 EPS and FY2019 earnings at $0.19 EPS.
K has been the topic of several other reports. Barclays reissued an "overweight" rating and set a C$4.00 price target on shares of Kinross Gold in a research report on Wednesday, October 10th. Canaccord Genuity reduced their price target on Kinross Gold from C$7.50 to C$6.50 in a research report on Thursday, October 18th. Finally, Beacon Securities reissued a "buy" rating on shares of Kinross Gold in a research report on Monday, November 19th. One investment analyst has rated the stock with a hold rating and four have assigned a buy rating to the company. Kinross Gold currently has an average rating of "Buy" and an average target price of C$5.67.
Shares of
TSE:K
opened at C$4.26 on Thursday. The company has a quick ratio of 1.10, a current ratio of 3.07 and a debt-to-equity ratio of 37.89. Kinross Gold has a 1 year low of C$3.15 and a 1 year high of C$5.90.
Kinross Gold (TSE:K) (NYSE:KGC) last issued its earnings results on Wednesday, November 7th. The company reported C($0.05) earnings per share (EPS) for the quarter, missing the Zacks' consensus estimate of C$0.01 by C($0.06). The firm had revenue of C$985.28 million during the quarter, compared to analyst estimates of C$985.28 million.
Kinross Gold Company Profile
Kinross Gold Corporation, together with its subsidiaries, engages in the acquisition, exploration, extraction, and processing of gold-containing ore. It also engages in the reclamation of gold mining properties; and production and sale of silver. The company's gold production and exploration activities are carried out principally in Canada, the United States, Russia, Brazil, Chile, Ghana, and Mauritania.
Further Reading: How is the LIBOR rate calculated?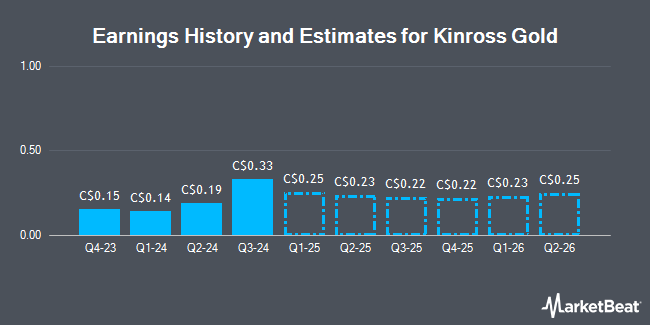 Receive News & Ratings for Kinross Gold Daily - Enter your email address below to receive a concise daily summary of the latest news and analysts' ratings for Kinross Gold and related companies with MarketBeat.com's FREE daily email newsletter.