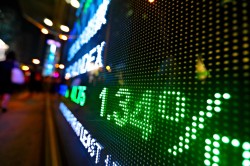 Oppenheimer Holdings Inc. (NYSE:OPY) announced a quarterly dividend on Friday, February 1st, NASDAQ reports. Stockholders of record on Friday, February 15th will be paid a dividend of 0.11 per share by the financial services provider on Thursday, February 28th. This represents a $0.44 dividend on an annualized basis and a dividend yield of 1.66%. The ex-dividend date of this dividend is Thursday, February 14th.
Shares of NYSE OPY traded up $0.01 during midday trading on Friday, reaching $26.58. 44,596 shares of the stock were exchanged, compared to its average volume of 64,274. The company has a market cap of $352.74 million, a PE ratio of 9.66 and a beta of 1.22. Oppenheimer has a 52-week low of $23.51 and a 52-week high of $34.15. The company has a debt-to-equity ratio of 0.37, a current ratio of 1.27 and a quick ratio of 0.71.
Oppenheimer (NYSE:OPY) last released its earnings results on Friday, February 1st. The financial services provider reported $0.59 earnings per share (EPS) for the quarter, missing the Thomson Reuters' consensus estimate of $0.73 by ($0.14). Oppenheimer had a return on equity of 7.08% and a net margin of 3.02%. The company had revenue of $243.25 million during the quarter.
COPYRIGHT VIOLATION WARNING: "Oppenheimer Holdings Inc. (OPY) Declares $0.11 Quarterly Dividend" was first published by WKRB News and is owned by of WKRB News. If you are accessing this article on another publication, it was copied illegally and republished in violation of international trademark and copyright law. The original version of this article can be read at https://www.wkrb13.com/2019/02/09/oppenheimer-holdings-inc-opy-declares-0-11-quarterly-dividend.html.
About Oppenheimer
Oppenheimer Holdings Inc, through its subsidiaries, provides middle-market investment bank and full service broker-dealer products and services. The company offers full-service brokerage services covering exchange-traded and over-the-counter corporate equity and debt securities, money market instruments, exchange-traded options and futures contracts, municipal bonds, mutual funds, and unit investment trusts; financial and wealth planning services; and margin lending services.
Further Reading: How is the S&P 500 index different from the DJIA?
Receive News & Ratings for Oppenheimer Daily - Enter your email address below to receive a concise daily summary of the latest news and analysts' ratings for Oppenheimer and related companies with MarketBeat.com's FREE daily email newsletter.