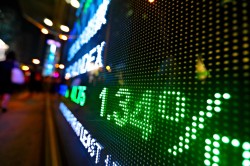 Propetro (NYSE:PUMP) was upgraded by investment analysts at ValuEngine from a "sell" rating to a "hold" rating in a research report issued on Monday.
Propetro stock traded up $0.30 during midday trading on Monday, hitting $17.21. 829,500 shares of the company's stock were exchanged, compared to its average volume of 1,146,175. Propetro has a 52-week low of $11.27 and a 52-week high of $20.91.
Propetro Company Profile
ProPetro Holding Corp., an oilfield services company, provides pressure pumping and other related services. The company offers hydraulic fracturing services; and a suite of well completion and production services, including cementing, acidizing, coiled tubing, flowback, surface air drilling, and drilling services.
See Also: Growth Stocks
To view ValuEngine's full report, visit ValuEngine's official website.
Receive News & Ratings for Propetro Daily - Enter your email address below to receive a concise daily summary of the latest news and analysts' ratings for Propetro and related companies with MarketBeat.com's FREE daily email newsletter.