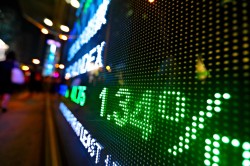 Apyx Medical (NASDAQ:APYX) released its earnings results on Wednesday. The company reported ($0.10) earnings per share (EPS) for the quarter, hitting the consensus estimate of ($0.10), Briefing.com reports. The company had revenue of $5.93 million for the quarter, compared to analyst estimates of $5.95 million. Apyx Medical had a negative return on equity of 6.32% and a net margin of 184.40%. Apyx Medical's quarterly revenue was up 62.0% on a year-over-year basis. During the same period in the prior year, the firm posted ($0.09) EPS. Apyx Medical updated its FY 2019 guidance to EPS.
APYX opened at $7.40 on Thursday. The firm has a market cap of $232.76 million, a PE ratio of -43.53 and a beta of 0.38. Apyx Medical has a 52-week low of $2.75 and a 52-week high of $8.89.
Separately, Piper Jaffray Companies increased their target price on Apyx Medical to $10.00 and gave the stock an "overweight" rating in a report on Monday, February 11th.
ILLEGAL ACTIVITY WARNING: "Apyx Medical (APYX) Releases Quarterly Earnings Results, Hits Expectations" was originally published by WKRB News and is the sole property of of WKRB News. If you are accessing this story on another publication, it was illegally stolen and reposted in violation of U.S. & international copyright and trademark legislation. The original version of this story can be viewed at https://www.wkrb13.com/2019/03/14/apyx-medical-apyx-releases-quarterly-earnings-results-hits-expectations.html.
About Apyx Medical
Apyx Medical Corporation provides products in the cosmetic and surgical markets worldwide. The company markets Helium Plasma Technology under the Renuvion brand name in the cosmetic surgery market and under the J-Plasma brand name in the hospital surgical market. Its Renuvion cosmetic technology enables plastic surgeons, fascial plastic surgeons, and cosmetic physicians to provide controlled heat to the tissue to achieve their desired results; and the J-Plasma system allows surgeons to operate with a high level of precision and virtually eliminating unintended tissue trauma.
Further Reading: How do taxes affect a CDs total return?
Receive News & Ratings for Apyx Medical Daily - Enter your email address below to receive a concise daily summary of the latest news and analysts' ratings for Apyx Medical and related companies with MarketBeat.com's FREE daily email newsletter.