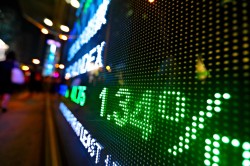 Pareteum (NYSEAMERICAN:TEUM) posted its earnings results on Tuesday. The technology company reported $0.02 earnings per share (EPS) for the quarter, beating analysts' consensus estimates of ($0.01) by $0.03, Morningstar.com reports. The company had revenue of $14.31 million during the quarter, compared to analyst estimates of $13.40 million. Pareteum updated its FY 2019 guidance to EPS.
NYSEAMERICAN:TEUM opened at $4.79 on Thursday. Pareteum has a 52 week low of $1.45 and a 52 week high of $5.15.
TEUM has been the subject of a number of recent analyst reports. Northland Securities initiated coverage on Pareteum in a research note on Thursday, December 20th. They set an "outperform" rating for the company. TheStreet lowered Pareteum from a "c-" rating to a "d+" rating in a research note on Monday, December 10th. Maxim Group initiated coverage on Pareteum in a research note on Friday, January 11th. They set a "buy" rating and a $7.00 price objective for the company. Zacks Investment Research lowered Pareteum from a "hold" rating to a "sell" rating in a research note on Friday, February 22nd. Finally, Craig Hallum initiated coverage on Pareteum in a research note on Monday, January 28th. They set a "buy" rating for the company. One analyst has rated the stock with a sell rating and five have given a buy rating to the company's stock. Pareteum has a consensus rating of "Buy" and a consensus target price of $5.75.
TRADEMARK VIOLATION WARNING: "Pareteum (TEUM) Releases Earnings Results, Beats Expectations By $0.03 EPS" was posted by WKRB News and is the sole property of of WKRB News. If you are reading this piece of content on another site, it was stolen and reposted in violation of United States and international copyright & trademark law. The original version of this piece of content can be accessed at https://www.wkrb13.com/2019/03/14/pareteum-teum-releases-earnings-results-beats-expectations-by-0-03-eps.html.
About Pareteum
Pareteum Corporation operates a communications cloud services platform in Europe and internationally. Its platform provides mobility, messaging, and security services and applications, with a single-sign-on, application program interface (API), and software development suite. The company's platform hosts integrated IT/back office and core network functionality for mobile network operators, as well as for enterprises to implement and leverage mobile communications solutions on a SaaS, PaaS, or IaaS basis.
See Also: Do investors pay a separate front-end load every time they buy additional shares?
Receive News & Ratings for Pareteum Daily - Enter your email address below to receive a concise daily summary of the latest news and analysts' ratings for Pareteum and related companies with MarketBeat.com's FREE daily email newsletter.