Achieve Life Sciences (NASDAQ:ACHV) announced its quarterly earnings results on Thursday. The biopharmaceutical company reported ($0.55) earnings per share (EPS) for the quarter, missing the Thomson Reuters' consensus estimate of ($0.37) by ($0.18), Fidelity Earnings reports.
Achieve Life Sciences stock traded up $0.93 on Friday, hitting $3.38. The company's stock had a trading volume of 9,439,966 shares, compared to its average volume of 1,721,912. The firm has a market capitalization of $16.33 million, a PE ratio of -0.15 and a beta of 2.75. Achieve Life Sciences has a one year low of $1.04 and a one year high of $14.60.
Separately, Zacks Investment Research raised shares of Achieve Life Sciences from a "hold" rating to a "buy" rating and set a $2.00 price target on the stock in a report on Thursday, November 15th.
COPYRIGHT VIOLATION WARNING: "Achieve Life Sciences (ACHV) Announces Quarterly Earnings Results" was reported by WKRB News and is the property of of WKRB News. If you are reading this story on another publication, it was stolen and republished in violation of international copyright legislation. The correct version of this story can be viewed at https://www.wkrb13.com/2019/03/15/achieve-life-sciences-achv-announces-quarterly-earnings-results.html.
Achieve Life Sciences Company Profile
Achieve Life Sciences, Inc, a clinical-stage pharmaceutical company, develops and commercializes smoking cessation aids in the United States and internationally. The company offers Cytisine, a plant-based alkaloid that interacts with nicotine receptors in the brain to help reduce the severity of nicotine withdrawal symptoms.
Read More: Why is the price-sales ratio important?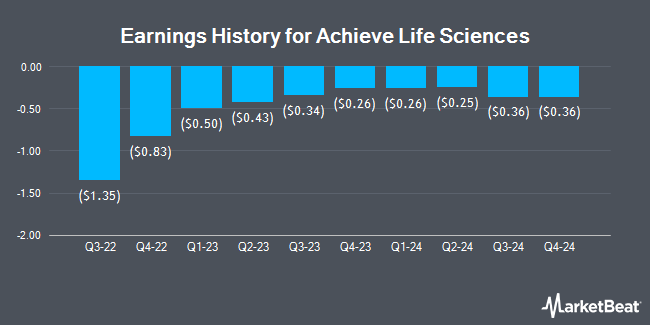 Receive News & Ratings for Achieve Life Sciences Daily - Enter your email address below to receive a concise daily summary of the latest news and analysts' ratings for Achieve Life Sciences and related companies with MarketBeat.com's FREE daily email newsletter.