Eiger Biopharmaceuticals (NASDAQ:EIGR) announced its quarterly earnings data on Thursday. The biotechnology company reported ($0.92) earnings per share for the quarter, missing the Thomson Reuters' consensus estimate of ($0.82) by ($0.10), Fidelity Earnings reports.
NASDAQ:EIGR opened at $13.31 on Friday. The firm has a market cap of $254.15 million, a P/E ratio of -2.74 and a beta of 1.48. Eiger Biopharmaceuticals has a one year low of $8.20 and a one year high of $18.00. The company has a quick ratio of 4.59, a current ratio of 4.59 and a debt-to-equity ratio of 0.56.
A number of research firms have issued reports on EIGR. ValuEngine raised shares of Eiger Biopharmaceuticals from a "hold" rating to a "buy" rating in a research note on Tuesday, January 15th. BidaskClub downgraded shares of Eiger Biopharmaceuticals from a "buy" rating to a "hold" rating in a research report on Monday, February 25th. Wedbush restated a "buy" rating and issued a $43.00 price objective on shares of Eiger Biopharmaceuticals in a research note on Tuesday, February 19th. Finally, BTIG Research boosted their price objective on shares of Eiger Biopharmaceuticals from $44.00 to $47.00 and gave the stock a "buy" rating in a research note on Wednesday, December 19th. Three research analysts have rated the stock with a hold rating and seven have issued a buy rating to the company. The stock presently has an average rating of "Buy" and a consensus target price of $31.88.
In related news, Director Thomas John Dietz bought 5,000 shares of the business's stock in a transaction that occurred on Thursday, December 20th. The stock was purchased at an average cost of $9.98 per share, for a total transaction of $49,900.00. Following the purchase, the director now directly owns 10,000 shares in the company, valued at $99,800. The purchase was disclosed in a filing with the SEC, which is available through
this link
. 7.90% of the stock is owned by corporate insiders.
A hedge fund recently raised its stake in Eiger Biopharmaceuticals stock. Dimensional Fund Advisors LP boosted its stake in shares of Eiger Biopharmaceuticals Inc (NASDAQ:EIGR) by 127.9% in the 4th quarter, according to the company in its most recent 13F filing with the Securities and Exchange Commission (SEC). The fund owned 36,750 shares of the biotechnology company's stock after purchasing an additional 20,625 shares during the quarter. Dimensional Fund Advisors LP owned 0.19% of Eiger Biopharmaceuticals worth $373,000 at the end of the most recent quarter. 81.76% of the stock is owned by institutional investors.
ILLEGAL ACTIVITY WARNING: This story was first published by WKRB News and is the property of of WKRB News. If you are accessing this story on another website, it was copied illegally and republished in violation of US & international copyright laws. The original version of this story can be read at https://www.wkrb13.com/2019/03/15/eiger-biopharmaceuticals-eigr-issues-quarterly-earnings-results-misses-expectations-by-0-10-eps.html.
About Eiger Biopharmaceuticals
Eiger BioPharmaceuticals, Inc, a clinical-stage biopharmaceutical company, focuses on the development and commercialization of targeted therapies for rare diseases in the United States and internationally. The company's lead program is Lonafarnib, an orally bioavailable, small molecule, which is in Phase III clinical trial for treating hepatitis delta virus (HDV) infection.
See Also: What are the benefits of momentum investing?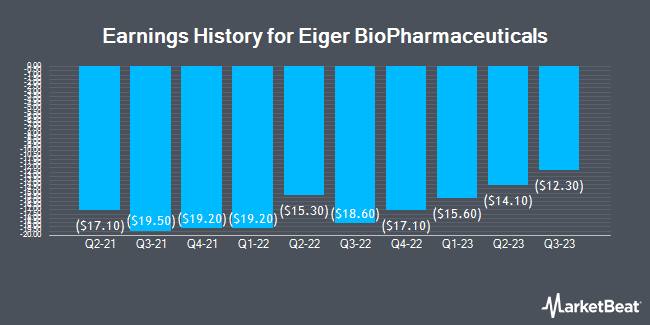 Receive News & Ratings for Eiger Biopharmaceuticals Daily - Enter your email address below to receive a concise daily summary of the latest news and analysts' ratings for Eiger Biopharmaceuticals and related companies with MarketBeat.com's FREE daily email newsletter.