Quest Resource (NASDAQ:QRHC) released its earnings results on Thursday. The business services provider reported $0.01 EPS for the quarter, topping analysts' consensus estimates of ($0.01) by $0.02, Fidelity Earnings reports. The business had revenue of $25.26 million during the quarter, compared to analysts' expectations of $26.74 million. Quest Resource had a negative net margin of 4.07% and a negative return on equity of 5.74%.
QRHC opened at $1.75 on Friday. The stock has a market cap of $25.73 million, a P/E ratio of -4.61, a price-to-earnings-growth ratio of 1.88 and a beta of 2.06. Quest Resource has a twelve month low of $1.26 and a twelve month high of $3.10. The company has a current ratio of 1.18, a quick ratio of 1.18 and a debt-to-equity ratio of 0.08.
QRHC has been the subject of a number of research reports. HC Wainwright reissued a "buy" rating and set a $4.00 target price on shares of Quest Resource in a research note on Friday, November 16th. ValuEngine raised shares of Quest Resource from a "sell" rating to a "hold" rating in a research note on Wednesday, January 2nd.
COPYRIGHT VIOLATION WARNING: "Quest Resource (QRHC) Releases Earnings Results, Beats Expectations By $0.02 EPS" was first reported by WKRB News and is the property of of WKRB News. If you are accessing this news story on another domain, it was illegally stolen and reposted in violation of US & international copyright and trademark laws. The original version of this news story can be accessed at https://www.wkrb13.com/2019/03/15/quest-resource-qrhc-releases-earnings-results-beats-expectations-by-0-02-eps.html.
Quest Resource Company Profile
Quest Resource Holding Corporation, through its subsidiaries, provides solutions for the reuse, recycle, and dispose various waste streams and recyclables in the United States. The company offers recycling and waste management services for motor oil, oil filters, scrap tires, grease and cooking oil, food waste, and expired food products; and various other materials, such as glass, cardboard, paper, and metal, as well as hazardous materials, plastics, construction debris, batteries, mercury, lights, regulated waste, electronic devices, and industrial cleaning products.
Recommended Story: Discount Rate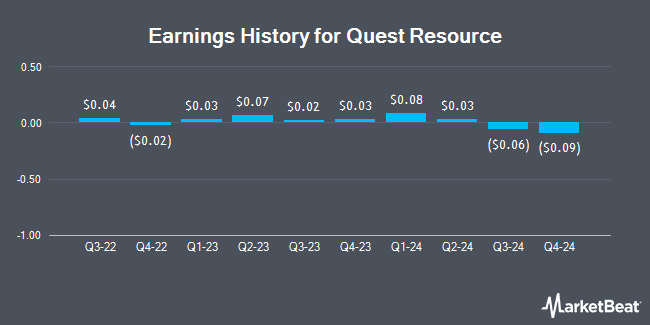 Receive News & Ratings for Quest Resource Daily - Enter your email address below to receive a concise daily summary of the latest news and analysts' ratings for Quest Resource and related companies with MarketBeat.com's FREE daily email newsletter.